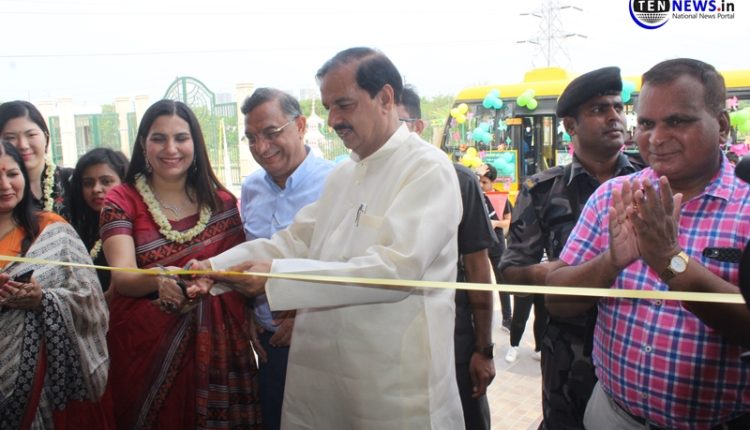 International Education Week at Delhi World School culminates with Global Waves Carnival
Saurabh Kumar / Baidyanath Halder
Greater Noida (20/07/2019) : A mega event, the International Education Week in Delhi World Public School, Noida Extension culminated in 'Global Waves' – a Carnival with enthusiastic participation of one and all. Today Former Union Minister Dr Mahesh Sharma Graced the occasion as the chief guest for the event along with the eminent guests and delegates from the embassies of Korea and China. All the guest were welcomed with a Hip hop dance which took them by surprise followed by the Ribbon cutting Ceremony and lighting of the lamp amidst chanting of shlokas. The Principal, Jyoti Arora accorded a cordial welcome to all the guests and dignitaries
The weeklong celebration from 15th July'19 to 20th July'19 was marked by activities like Poster Making, Collage Making Competition, Folk tale narration, Mask and Artefacts making Competition etc. An Inter School German and French Music and Cuisine Competition 'Culturelle Stimmung' was organized during the week which had an overwhelming response from all reputed schools of Noida.
The cultural show presented on the occasion won acclaim from the eminent guests and parents alike. The majestic glimpses of the dances of many countries such as South Korea, China, Thailand, Singapore, Myanmar, Japan, UAE, etc. enamored the audience. The exemplary exhibition had a grand display of culture, craft, cuisine, costume of the adopted country. The Tempura dance was presented by the representatives from the embassy of Egypt.
Interacting with Ten News Dr Mahesh Sharma said ""this gives us not only feeling of culture of India but it gives us a global feeling. Today's theme of Asia is also the vision of our prime minister to have warn relation with all our neighbour. I would like to complement of the students, teachers and principal for this wonderful celebration where we got the glimpse of global village."
The Chairman, Vipin Sahni, the Chairperson, Kiran Sahni along with the Directors Saiyam Sahni felt elated explaining to the guests how our children are actually trained to become global citizens. The colorful event came to end making each and every one feel more knowledgeable and proud to be a part of global diversity with a united culture of being a human being on this planet Earth.
Photo Highlights of International Education Week held at Delhi World Public School