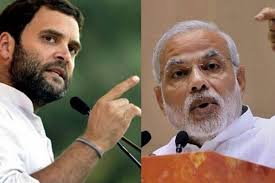 New Delhi: The aggressive campaign in Karnataka for assembly election is likely to end on high note. Both major political parties Congress and BJP are gearing up for last final push. The state is going for poll on May 12 (Saturday) and counting is on May 15 (Tuesday).
On one hand, BJP is holding road shows and have deployed 50 senior leaders, including Amit Shah, Union minister Nirmala Sitharaman, Prakash Javadekar, Ananth Kumar, and DV Sadananda Gowda to lure the voters, while, on other hand; Congress President Rahul Gandhi and Congress CM face Siddaramaiah are using media as a tool to reach out to large number of voters.
Today, Rahul Gandi and Siddharamaiah held a press conference and yesterday, Congress president gave an interview to the one of the most popular and trusted newspaper of the southern India The Hindu, aimed to reach out the huge number of voters and push the final button.
On last day of campaign, early morning, PM Modi reached out to Dalits and other backward communities and spoke of his government's initiatives for them. Later he mounted attack on the grand old party Congress. PM Modi said the party never respected BR Ambedkar, the Dalit icon and the architect of the Indian constitution. "Until the Congress party was in power, Baba Saheb was not given Bharat Ratna," he said.
Indeed, the battle of Karnataka will be a litmus test for both parties and is being seen as a warm-up for both the parties for upcoming General Election of 2019.
At a time when atrocities against dalits, minorities are on high, fuel prices are skyrocketing, unemployment figure is increasing, economy has crippled, Owing to demonitisation and GST roll out the small businessmen has ruined and for all of BJP government is facing the heat, this election is a litmus test for the BJP and could be a sign for upcoming general election.
While for Congress, this election is a fight of pride. If they lose, the grand old party will now only be limited to two states Punjab and Pondicherry and indeed their loss will also down their moral which will adversely affect in the upcoming assembly and general election.
Rahul Gandhi who gave a tough fight to PM Modi at his den in Gujarat is seem more confident and vigour for the win.
Fate of both the parties is in the fold of future and only time will tell that who the boss is.
I conclude this piece with a question; Will Rahuld Gandhi who projected himself as a Prime Minister succeed or fail?