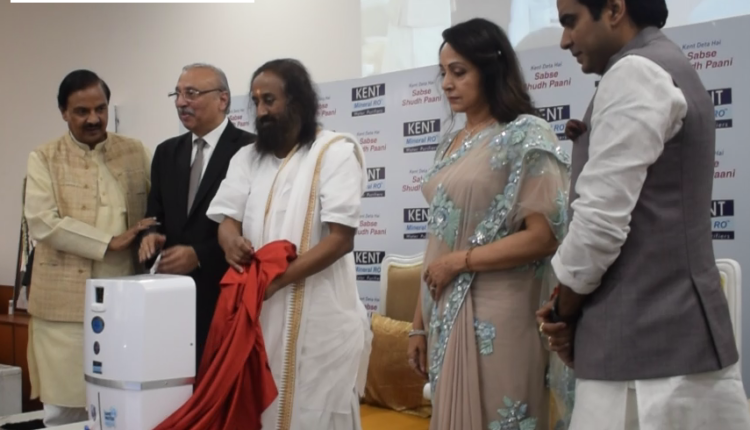 Kent RO Opens New Manufacturing Plant in Noida!
Prerit Chauhan (Photo & Video) By Rahul kumar jha
Noida: The Spiritual Guru Sri Sri Ravi shankar along with Veteran Actress Hema Malini, Dr Mahesh Sharma, MP, Gautam Budh Nagar and Noida MLA, Pankaj Singh inaugurated Kent's new Manufacturing Facility in Noida today. Kent's new facility is India's largest RO Water Purifier manufacturing unit and with this facility, Kent RO will double its current capacity for R0 water purifiers from 5 lacs units a year to 10 lacs units a year.
On this occasion, Kent RO also rolled out its range of Next Gen RO Water Purifiers with Digital Display of Purity. Next Gen RO Purifiers also come with an additional layer of security in the form of UV-LED protection in the storage tank.
Dr. Mahesh Gupta, CMD, Kent RO Systems Ltd said, "With the opening at this plant in Noida we have taken our commitments towards pure water to a new high. We are dedicated towards the health of our consumers and we aim to detiver quality products and services to customers across the globe. The expansion of our manufacturing base will also open up the door for employment and local sourcing and meet our growing
demand."
Bollywood Veteran Actress and Kent's Brand Ambassador, Hema Malini said,
"I'm fortunate to have such a long association with a Brand which has taken its commitment to Purity at a new level.
Kent RO continues to provide cutting edge technology and enriching experiences to Indian consumers with its wide range of RO purifiers, and i'm really honored to be a part of it."
Dr Mahesh Sharma, MP, Gautam Budh Nagar said,
"In Reality the work which is done by Kent is commendable. Providing clean vegetables to providing pure water and pure air, Kent is playing a huge role. I congratulate kent for all the Initiatives. We want blessings of Guru ji on us and all Noida citizens.Noida is getting everything now, the international Airport is also coming near Noida so we are going on a right track."
Speaking on the occasion, Noida MLA, Pankaj Singh, said,
"The way Mahesh Gupta ji is creating arrangements for clean drinking water for us, is the same way Guru ji (Sri Sri Ravi Shankar) has taught us the art of living. I would like to say a person can be big in stature, he must have everything be it a good telvision set, good crockery set, good Kitchen Appliances but if a person doesn't have a mental peace he doesn't have anything."
In his address Sri Sri Ravi Shankar remarked that air and water are the prime essence of human life. "Unfortunately we have contaminated both water and air and one is not able to drink pure water & breathe pure air. The resources are getting polluted day by day. I am glad that Kent RO is going ahead with its mission to provide clean drinking water to the people beyond the geographical boundaries of this country," he said.