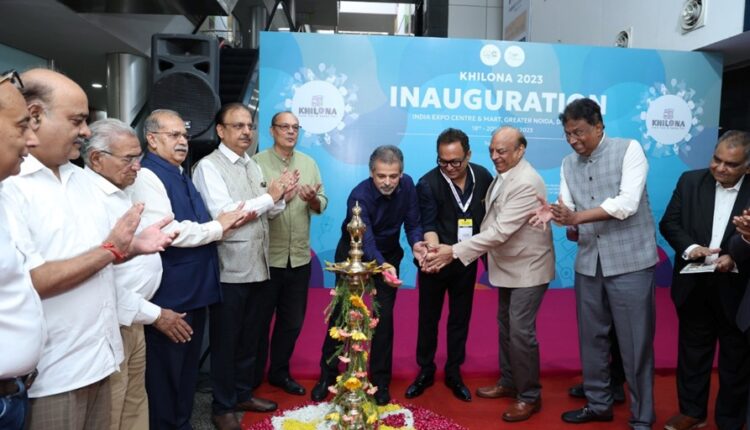 Khilona Fair opens at India Expo Mart, congregates all segments of India's toys & games manufacturers to explore business prospects
TEN NEWS NETWORK

Greater Noida/ Delhi NCR – 18th August 2023 – The 2nd edition of Khilona-India Toys & Games Fair being held from 18th to 20th August 2023 at India Expo Centre & Mart, Greater Noida Expressway was inaugurated by Dileep Baid, Chairman, EPCH in the presence of Dr. Neeraj Khanna, Vice Chairman II, EPCH; Raj Kumar Malhotra, Imme. Past Chairman-EPCH; Dinesh kumar; Ravinder Kumar Passi; Sagar Mehta, Girish Kumar Agarwal; Hansraj Baheti; Kamal Soni; Salman Azam; K. L. Ramesh, Om Prakash Prahladka; Rajesh Jain; Pradip Muchhala; Arshad Mir, Lekhraj Maheshwari, Simrandeep Singh Kohli; Naved Ur Rehman; C. P. Sharma Member(s)-Committee of Administration-EPCH; Dr. Rakesh Kumar, Chairman, IEML; R K Verma, Executive Director, EPCH; and Committee of Administration Members, EPCH. It is organised by the Export Promotion Council for Handicrafts with approval and active support from Ministry of MSME, Ministry of Commerce & Industry and Ministry of Textiles, Govt. of India.
In a message to the organisers, Piyush Goyal, Union Minister of Commerce & Industry, Consumer Affairs, Food & Public Distribution and Textiles, Govt. of India, said, "The development of this industry is in line with Hon'ble Prime Minister's vision of 'Vocal for Local' and 'Make in India' for the world. This fair will provide an exclusive opportunity to our toy manufacturers which primarily include MSMEs and skilled artisans to expand their engagement with international markets by establishing requisite market linkages" Echoing the optimism, Smt. Darshana Jardosh, Hon'ble Union Minister of State for Textiles, in her message added, "India's toys & games industry has the potential of realising the Prime Minister's vision of making the nation self-reliant in this sector and becoming manufacturers for the world. I am happy to learn that stakeholders from this industry are getting an apt platform to showcase their capabilities and engage with buyers from all over the world in the three day fair."
Speaking about the fair's composition, Dileep Baid, Chairman, EPCH, informed, "with exhibitors from various segments of the industry, Khilona is an important major platform for exploring the latest trends, designs, and advancements in toys and games. Visitors can see India's strengths in innovations and high precession manufactured toys alongside traditional toys & games as well as collectibles. There are many offering STEM toys, responding to the growing market demand with engaging product lines that speak for themselves. Décor, themes and accessories for children's living spaces is another segment, where manufacturers are exploring export potential in furniture to suit ergonomic needs, decor to enliven the mood, theme based furnishing & accessories, table top and wall décor, stationery products, holiday assortments, etc."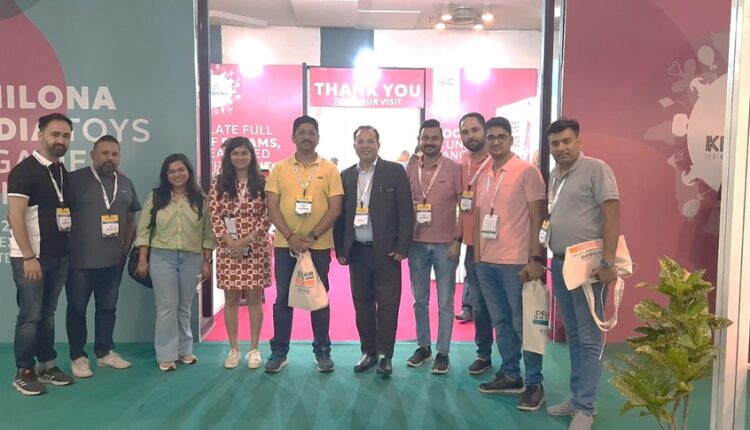 Dr. Neeraj Khanna, Vice Chairman II, EPCH, added, "over 10 exhibitors are among start-ups at the fair, offering plenty in fun & learning, indoor and outdoor play. They look forward to make connections for business opportunities in children's room furniture, baby & toddler products, gaming, phygital (physical + digital) lines, recreational as well as educational toys."
Dr. Rakesh Kumar, Chairman, IEML shared "The Toy sector is one of the very old and yet the most dynamic sectors in terms of design and innovation. Through this show, besides benefiting from direct business between buyers and sellers, toy makers can explore exciting ways to combine traditional skills and materials with modern design sense and manufacturing technologies."
R K Verma, Executive Director, EPCH, further informed, "Khilona-India Toys & Games Fair features a vibrant representation of our rich heritage and unparalled craft skills with several artisans from the remotest corners of India's toy craft villages, towns and clusters, among exhibitors at the fair. Their existing and original skills have been further honed towards creating more designs & variety, improved quality, marketability and commercial viability, by specific teams of EPCH, through the govt.'s Guru Shishya Hastshilp Prashikshan programs. Visitors will see collections in Channapatna lacquerware toys, Varanasi wooden toys, Asharikandi terracotta toys, Jaipur kathputli, Kinhal wooden toys, Indore leather toys and Cuddapah Raja Rani wooden dolls."
The Indian toy industry is among the fastest-growing globally, projected to reach $ 3 billion by 2028, growing at a CAGR of 12% between 2022-28. Domestic market size currently stands at an estimated value of $ 1.5 billion. India's Toy Exports witnessed an increase from US$ 203.42 million in 2018-19 to US$ 325.72 million in 2022-23.