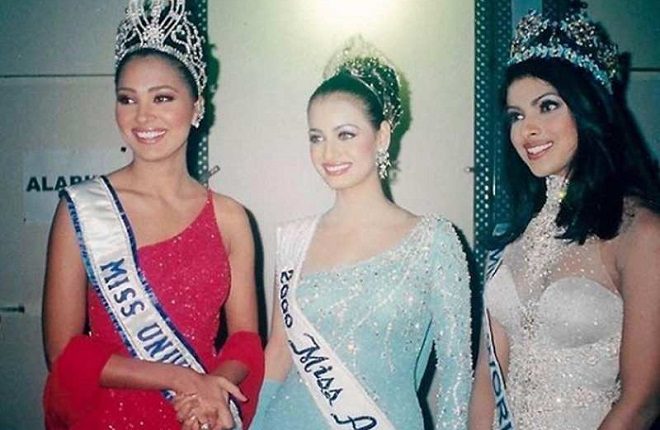 Lara Dutta Bhupathi gets nostalgic, shares throwback photo with Priyanka Chopra and Dia Mirza
New Delhi:  Actor Lara Dutta Bhupathi recently shared a priceless throwback picture from her beauty pageant days on her Instagram page. It featured the three pretty ladies, Priyanka Chopra, Dia Mirza and Lara Dutta after winning the titles, Miss World, Miss Asia and Miss Universe.
It was year 2000, which is considered very important in regard to international beauty pageant history. Sharing the nostalgic photo almost after 20 years, Lara wrote, "A HUGE shoutout to @oncueindia for completing 25 years of managing the Miss India Contest!! #silver jubilee. You guys are THE ABSOLUTE BEST and none of our journeys would have been possible or successful without that perfect first step with you'll !!! Wishing you many many more milestones and success!!!"
//www.instagram.com/p/BzIEd4yHP1w/?utm_source=ig_web_copy_link
The actor in another post, a while back had shared the edited version of the photo with the current look of all the three actors and had showered love and praises on Priyanka and Dia. The actor had captioned the photo stating, "I had posted the above picture a while ago but came across this edit on #instagram and really loved it! THEN & NOW! Coming up to 20 years you guys @diamirzaofficial @priyankachopra !!!!! I love you both loads!!! So happy we'll always have this that ties us together! One for the Motherland!"



Check it out below:
//www.instagram.com/p/B2qm-X7Hs77/?utm_source=ig_web_copy_link
Actor Priyanka Chopra had replied on Lara's post by writing, "OMG! I love this… and both you amazing women! I admired u then and I admire u even now! Much love always. @larabhupathi @diamirzaofficial"
Meanwhile, actor Dia Mirza wrote, "I love you so much"
In 2000, Priyanka, Lara and Dia after winning Miss India went on to become Miss World, Miss Universe and Miss Asia Pacific respectively. All three of them then chose acting as their career.