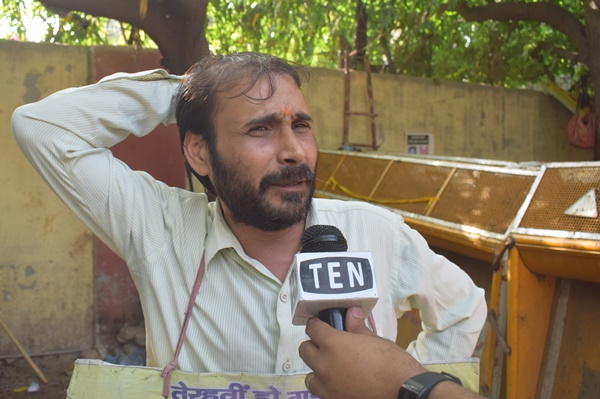 Lok Sabha Elections 2019: Nana Patekar's Cook to contest against PM Modi in Varanasi
PRERIT CHAUHAN/ JITENDER PAL- TEN NEWS
New Delhi: (06/04/2019) Santosh Murat Singh from Chittoni village, Varanasi district of Uttar Pradesh who has been on dharna at Jantar Mantar since 2012 with a unique problem that he has been officially dead
 for 12 years and everything he owned has been sold off by his relatives.
Recently Santosh, became the first 'dead man' to file his nomination for
Lok Sabha Election 2019, just to prove that he is alive. He moves around the Jantar Mantar road talking to other protesters and the police. However, he's been certified dead by the Uttar Pradesh state government.
Speaking to Ten News, Santosh Said,
"In 2003, i was informed that my last rites were conducted in my village. My cousins took away the ownership of his land by allegedly bribing the local authorities and declaring me dead. Till 2012, i tried my best to get back the ownership of that land but he could not."
He Further said, " PM Narendra Modi is the MP from Varanasi and he also happens to be the Prime Minister (PM) of India. If a PM can be too busy to hear citizens' woes but as an MP, he must have enough time for his constituency. Like me, there are 50,000 men who are declared dead on papers. This fight is also for them so that they too can get their life back on government papers."