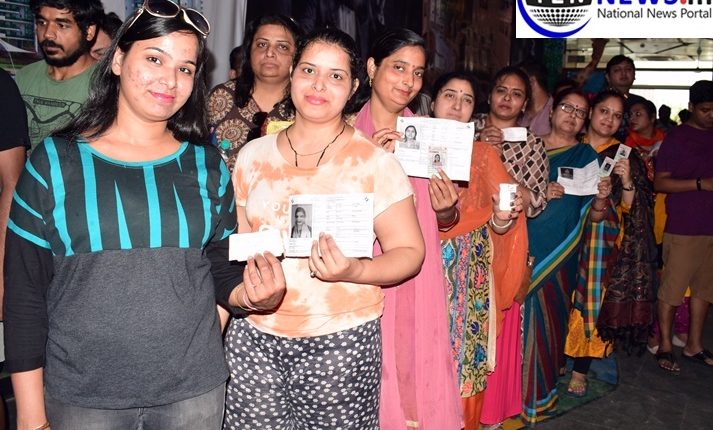 Lok Sabha Elections 2019: Noida's First Time Voters and Senior Citizens cast their votes with Enthusiasm!
Prerit Chauhan (Photo/Video) By Lokesh Goswami Ten News
Noida: Voting started today in first phase of Lok Sabha Elections 2019 election in the World's largest democracy. Encouraging scenario for the Participative Democracy was witnessed as the Long queue in the morning at some Noida Polling booth in Gautam Buddha Nagar Lok Sabha seat was seen.

The Phase 1 of Lok Sabha elections 2019 provided a platform to the voters to choose their representatives on 91 seats in 18 states and two Union Territories. A total of nearly 1300 candidates are contesting for 91 seats.
The polling in eight Lok Sabha seats in Uttar Pradesh, including Gautam Buddh Nagar and Ghaziabad in the National Capital Region, on Thursday amid tight security in the first leg of the seven-phased general election conducted smoothly with the help of over 10,000 police personnel and paramilitary forces deployed in various parts of the district to ensure safe and fair polling.

This time all the Electronic Voting Machines (EVMs) was attached with Voter Verifiable Paper Audit Trail (VVPAT) to safeguard the voters vote.
Also, for the first time, the Electronic Voting Machines (EVMs) had faces of the candidates who are contesting along with their party symbols to make it easy for the voters to recognise them better.
For security posted outside a polling station in Noida, Sector 15A food platters sent inside poll booth with 'NaMo Food' cover on it irked a controversy. Many voters standing in the queue raised an eyebrow at it if it's allowed while voting is on, if it's a poll code violation.

Noida SSP issuing clarification after row over policemen distributing NaMo food packets said, "There is some misinformation being spread that some Policemen have been distributed food from a Political party. This is absolutely wrong. At local level some food packets were procured from Namo Food Shop and not from any political Party. Some people are spreading wrong and politically motivated rumours. And there is no official order to procure food from any particular food outlet.
Senior citizens and first time voters showed a lot of enthusiasm and came out to vote in large numbers on Thursday in Noida, while speaking to Ten News Senior Citizen couple said,
"We came to vote at this age also. So everyone else should also exercise their right to vote. Not even one person should stay at home."
First Time Voters speaking with a great Enthusiasm said that, A good job, political stability and peaceful environment are on the wish list of many for us. our education system lacks in the vision and we want a change in it.