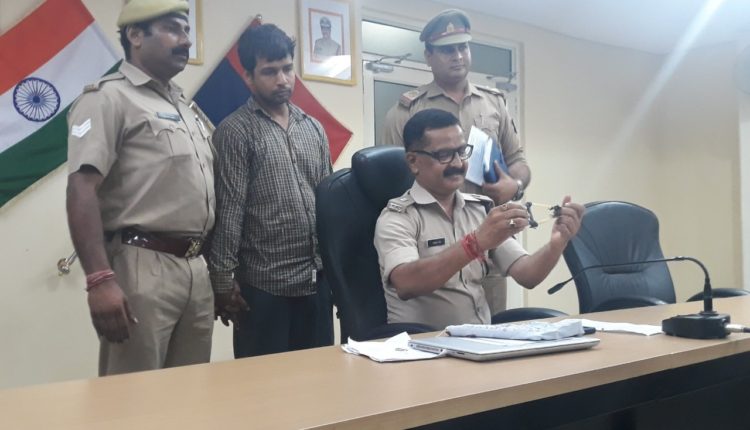 Man held for robbing laptops by smashing car windows using Slingshot
Saurabh Kumar / Baidyanath Halder
Greater Noida (05/09/2019) : If your laptops were stolen from parked cars in Noida and Greater Noida, most likely a notorious criminal, Imtiyaz held by Noida Police is to be blamed. On Thursday Noida police had arrested the accused red-handed while he and his gang members were trying to execute an incident.
Accused and his gang is majorly active in Noida, Greater Noida West region and also committed some incidents in Delhi. First, they used to smash car's windows with a gulel/slingshot by keeping them on a safe distance and then they steal laptops and valuables kept in car. Later in an organized their gang use to sell them to Nehru Place in Delhi.
SP Rural Ranvijay Singh briefed said from past some we are getting such complaints, mostly from sector 144 of Noida. So a joint team Surajpur Police station and sector 144 Chowki in charge worked out the incident and nabbed the accused. "They use to smash car's windows with a gulel/slingshot using bicycle bearings as pellets to broke glass. And then they use to sell laptops in 4 to 5 thousand each through a middle man."Said SP.
Further, he added "For now the accused has confessed his involvement in more than a dozen such incidents in Noida and other parts of NCR. they are a gang of 4, 5 men for whom we are looking for. Apart from this, numbers of people involved are expected to high as we will also tracing where the laptops were sold out."
Police had recovered a country-made gun and the slingshot from the accused.