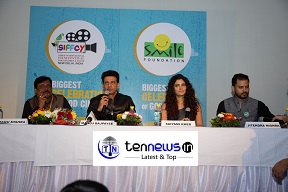 MANOJ BAJPAI AND SAIYAMI KHER INAUGURATES THE SECOND EDITION OF SIFFCY!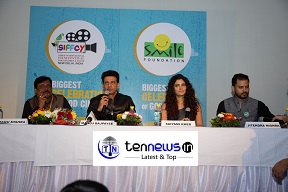 Manoj Bajpai and Saiyami Kher inaugurates the second edition of Smile International Film Festival for children and youth in Delhi!
SIFFCY (Smile International Film Festival for Children & Youth) is a special film platform devoted to a greater appreciation of meaningful cinemas made for children and youth which can bring change in the society by showcasing those films, supporting emerging filmmakers, recognising the pioneers and leaders of the similar industry and by promoting the diverse perspectives of Good World Cinema.
Manoj Bajpai whose film Budhia Singh: Born to Run will be premiered at the festival talking about his choice of films he said "Box Office collection is different thing but you should definitely pull off the character which you believes in. Eventually that's not going to work for the people and the industry as they will consider you for their film not because of the talent but because of the business your last film has done"
"My film Aligarh was screened in Paris and there was chaos outside the theatre and was packed and they were all french people willing to watch the film. It is the audience's choice what they want to see and what not" he further added.
The festival started with the opening film 'HEIDI' directd by Alain Gsponer followed by 'THE TRAP: OTTAL' directed by jayaraaj. The festival also saw a special Art Design Workshop' conducted by Sukant Panigrahy. famous for DEV D, Chak De India, Aaja Nachle and more.
Mirziyaan actress Siyami Kher said "I feel children catch up things easily. They should watch such films that will last an impact on them. It is a great initiative as they will enjoy and learn at the same time"
Jitendra Mishra, Director of SIFFCY speaking about the festival said "This time we have introduced Yellow Carpet which will feature the biggest films from India that are internationally acclaimed but are not so popular in India. Children should watch such kind of films and these will definitely teach them something"
Associted with Emar Events and Book a Smile: An initiative by BookMyShow.com, SIFFCY this time will premiere 100 films from 50 countries along with live workshops on film making, photography and loads of other fun activities at Sirifort Auditorium from December 5-11, morning 9 am to 6 pm.