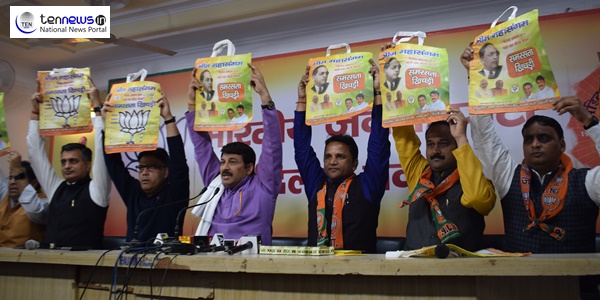 New Delhi (08/12/2018): Today, at the BJP office in the national capital, Delhi BJP head Manoj Tiwari called off a press conference related to 'SC Morcha' that will be happening on 6th of January next year where according to the calculations of BJP, almost 2,80,000 of people will be gathering and taste Khichdi that will be prepared by the raw donations of these 2,80,000 people from Delhi.
Manoj Tiwari while addressing the conference said that, "This upcoming happening on 6th of January is one of the unique initiatives by BJP. Although BJP always brings up such initiatives for the betterment of citizens."
"AAP leader Kejriwal plays around with the emotions of Delhiites. He is very usual and fond of asking apologies. When I started a fight against illegal sealings in Delhi, I never apologised for my doing as I have always fought for the betterment of Delhiites." Manoj added.
He also said, "6th January will be a remarkable day in the history of India as lakhs of people will gather in the Ramlila Maidan and will happily protest for SC act. Today our supporters are leaving BJP office for collecting the raw materials for the preparation of Khichdi that will be distributed among the people who will gather in Ramlila Maidan on 6 of January."
"While on the inauguration day of Signature Bridge in Delhi, AAP did not invite us for the happy occasion but when I reached the venue being a common man, I was not treated as a guest and rather I faced bad experiences. I was forcefully pushed to return back to my home and when Kejriwal was asked for reasons, he asked people to throw chilli powder on him and create a scene to collect sympathies." Manoj Tiwari added to his speech.