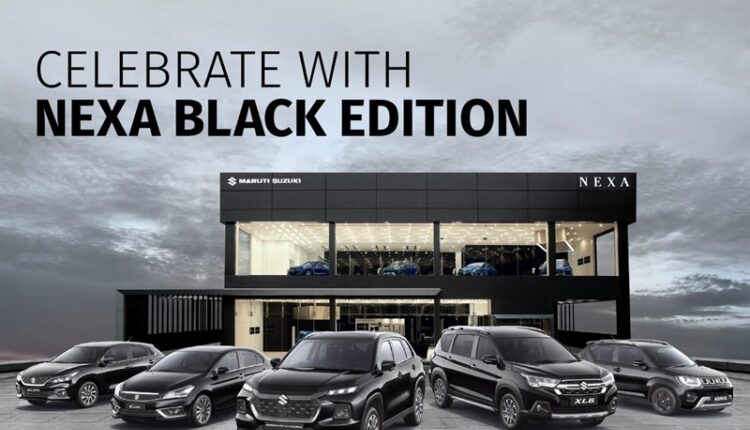 New Delhi, January 05, 2023: Celebrating 40 glorious years of Maruti Suzuki, the Company's premium retail network, NEXA, has announced the launch of a new NEXA Black Edition range of cars. All five NEXA vehicles – Ignis, Baleno, Ciaz, XL6, and Grand Vitara – will now be available in a striking new Pearl Midnight Black shade. The premium metallic black colour adds a touch of uniqueness and exclusivity to the sophisticated and technologically advanced vehicles. The NEXA Black Edition reflects the elegance and tasteful nature of NEXA customers and allows them to become a part of the celebrations in a memorable way.
Introducing the NEXA Black Edition and Limited Edition Accessory packages, Shashank Srivastava, Senior Executive Officer, Marketing & Sales, Maruti Suzuki India Limited, said, "As we celebrate Maruti Suzuki's 40th anniversary, we are excited to introduce the NEXA Black Edition range to also commemorate NEXA's 7-year anniversary. The NEXA Black Edition vehicles perfectly embody the sophistication and exclusivity that our customers expect from NEXA. Additionally, customers can personalize their favourite NEXA vehicle from the Limited Edition Accessory packages to match their style. We look forward to see the NEXA Black Edition range of cars on the roads and joining in the celebrations of our milestone anniversary."
The NEXA Black Edition is available in Zeta and Alpha variants of the Ignis, all variants of the Ciaz, Alpha and Alpha+ variants of the XL6, and Zeta, Zeta+, Alpha and Alpha+ variants of the Grand Vitara. Prices for the celebratory NEXA Black Edition range of cars remain consistent with the standard range of NEXA cars.
In addition to the new Black Edition, NEXA has also announced Limited Edition Accessory packages for customers to further customize their cars as an option. The Limited Edition Accessory packages are available for all NEXA cars at special discounted prices.
About NEXA
Delivering premium automotive experiences to its customers for over seven years, NEXA has been a pioneer in setting benchmarks for providing unrivalled car buying experiences. Driven by the philosophy of 'Create.Inspire', NEXA offers a world of ingenious innovation, exclusivity, and inspiring experiences to its customers through a premium automotive retail experience. With its carefully designed products that offer the best in technology, design, and features, NEXA caters to the unique needs of customers, whether they are looking for a premium hatchback, sedan, MPV and SUV.