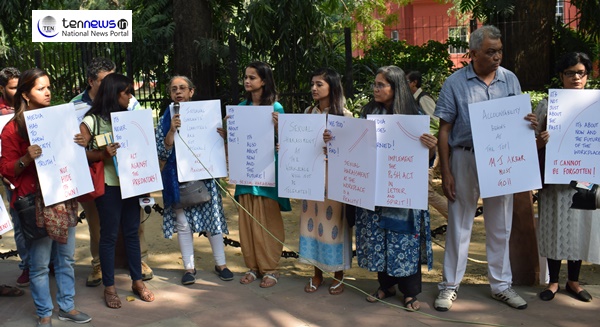 New Delhi: The #MeToo storm intensified last week with more women recounting their experiences of sexual harassment in the entertainment and media industry.
Journalist has now come forward to accuse Minister of State External Affairs MJ Akbar of sexual harassment.
CNN scribe Majlie de Puy Kamp has revealed that she was sexually harassed by Akbar in 2007 when she was an 18 year old intern.
On Saturday, Journalist gathered at Parliament Street in New Delhi protesting against "sexual harassment in the media". Journalists staged a protest demanding effective implementation of 'Sexual Harassment at Workplace Act' in all organisations.
Speaking to Ten News, T.K.Rajlaxmi , Senior Journalist said,
"I'm sure anyone who has a point to make, will have the opportunity today to voice it. We the Journalists today assembled at Parliament Street expressing complete solidarity with all those who have come out and spoken courageously against the harassment they have faced by colleagues and superiors."
She further said, "We recognise that sexual harassment of journalists in the media is rampant due to the non or faculty implementation of the Sexual Harassment at the Workplace(Prevention, Prohibition and Redressal) Act. We call upon the government and media employers to implement the law in spirit and form. Sexual harassment at the workplace is non-negotiable; the implementing authorities concerned are mandated to address all the cases in the interests of gender equality and to ensure justice to the complainants.