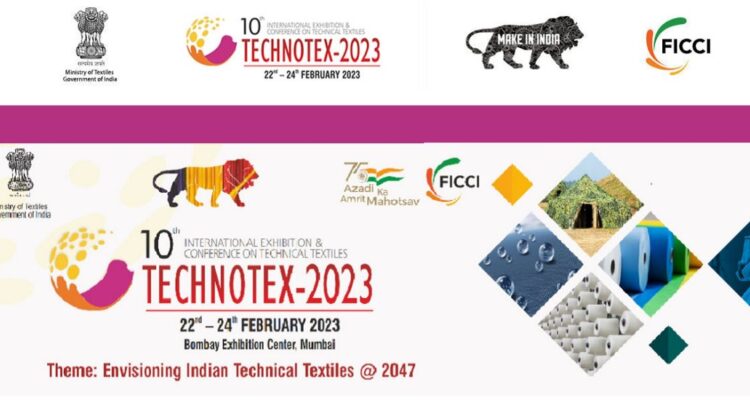 Mumbai (17/02/2023): Ministry of Textiles is going to organize India's forthcoming premier show on Technical Textiles,'Technotex 2023: Envisioning Indian Technical Textiles@ 2047', to be held from 22nd to 24th February 2023 at Bombay Exhibition Centre, Goregaon, Mumbai.
Ministry of Textiles, Government of India is organizing this flagship event in collaboration with Federation of Indian Chambers of Commerce Industry for the purpose of promotion of technical textiles, which includes textiles meant for some specific purpose like Medical, Defence, Industrial, Agriculture, Automotive, Building, Packaging textiles etc.
The first edition of Technotex was organized in 2011 and this mega event is into its 10th edition this year, which would be biggest so far and 1st one in Physical Mode after Covid.Technotex2023 would compriseof B2B (international, Domestic, and Institutional), Exhibition, Conference and Seminars, CEO's Forum, Reverse Buyer Seller Meet (RBSM), High Level Roundtables, Investor Discussions, Country and State Sessions.
Participation is studded with dignitaries from various Countries and State Governments. Maharashtra is the Host State for the event and Karnataka, Tamil Nadu, West Bengal, and Madhya Pradesh are the Partner States. In addition, the event will house 150+ Technical Textiles exhibitors and 250+ buyers from 30+ Countries including Taiwan, Germany, Switzerland, Guinea (South Africa), South Korea, Russia, and Luxembourg, among others.
The event will hold the presence of global and national industry leaders, CEOs, senior industry representatives, Ministries and Departments of the Central & State Governments, user industries and experts under one roof to deliberate over the future of the Indian Technical Textiles industry.
Technotex 2023 would support in exemplifying the immense potential for trade and investment between India and foreign countries in Technical Textile sector. Now that India has assumed G-20 Presidency, the event would offer an excellent opportunity to foster our international connects in the global technical textiles industry.
Currently, Indian Technical Textiles market is the 5th largest in the world, sized at USD 22.5 billion in 2021-22. The growth of Technical Textiles in India has gained significant momentum in the past five years, growing at 9-10% per annum.
Large demand of Technical Textiles products in varied application areas, coupled with the existing global market dynamics, portrays gigantic prospective of this sunrise industry in India. Therefore, the time for the industry to realize its far-reaching potential, is now.
Technotex 2023 is thus aligning with Government's concerted efforts in direction of making India a leading manufacturing hub in the area of Technical Textiles. The event will hold discussions on some of the most strategic areas for Indian Technical Textiles, such as Investment Potential & Opportunities; Startup Ecosystem in Technical Textiles and Start-Ups Leveraging Technologies in Smart Textiles; User Perspective (Defence & Security Institutions'); potential of Technical Textiles in PM GATI SHAKTI; Potential of Technical Textiles for Protected and Sustainable Agro-Produce; Domestic Capabilities and Capacities in the field of Meditech; and Standards, Quality, Regulatory & Trade Aspects of Technical Textiles.
Besides, Technotex 2023 will witness a CEOs' Roundtable, wherein the business leaders from around the world will share their insights, spotlight opportunities and layout the future course for the rapidly growing segments of Technical Textiles. Further, a Knowledge Report and BIS Standards would also be released during the three-day Technotex 2023.
Piyush Goyal, Hon'ble Union Minister of Commerce & Industry, Consumer Affairs, Food & Public Distribution, Textiles, Government of India and Darshana Jardosh,  Hon'ble Union Minister of State for Textiles and Railways will be addressing in the event and sharing their view points as we jointly strive towards realizing a new growth story in Technical Textiles.
Ministry of Textiles is hopeful that the focused deliberations, knowledge exchange and business connect at the Technotex2023 will yield actionable plans that will be instrumental in boosting India's Technical Textile industry.