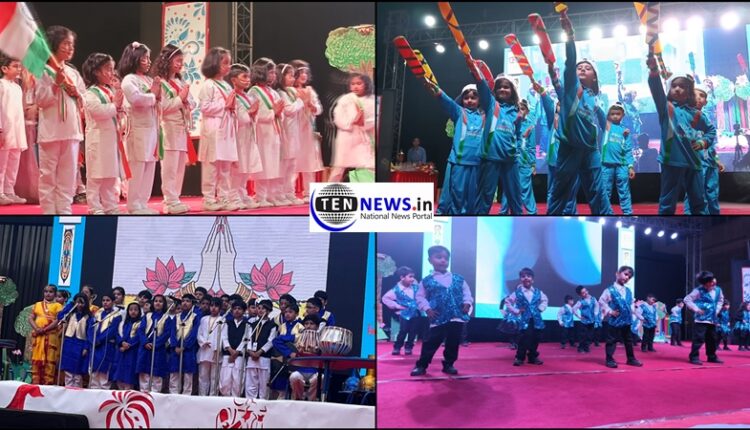 Modern School, Greater Noida, Celebrates Annual Function 2022-23 with Splendor and Zeal
Ten News Network
Greater Noida, February 20, 2023: Modern School held its annual function with great grandeur and splendor yesterday. The event was graced by esteemed dignitaries, including S.K. Jain, Saurabh Jain, Tarun Jain, and Varun Jain, who were welcomed by the principal, Sabita Nair.

The chief guest, Prof. Ravinder Kumar Sinha, Vice Chancellor at Gautam Buddha University, presided over the four-hour-long cultural show. Expressing his gratitude, he said, "I thoroughly enjoyed the two-plus hour event. I congratulate each one of you and am grateful that you have invited me."
The event's theme, "Wonderland of Stories," showcased captivating tales from popular stories like Malgudi Days, Vikram and Betal, Niskam Bhakti, and Kabuliwala.
The students of Modern School, Greater Noida, put forth an extraordinary display of talent and enthusiasm, impressing the audience with their remarkable performances. The annual prize distribution function was a moment of pride and honor for all the winners and achievers of the school, who were awarded prizes in both academic and co-curricular areas.
The school management received praise for their constant motivation and support for the students' growth and development. The teachers were lauded for their dedication and efforts in nurturing the students and producing remarkable individuals who are leading multinational companies.
The program concluded with the National Anthem, leaving the audience spellbound and filled with hope for a bright future. The event proved to be a platform for the students to showcase their inherent talents, and the venue was complimented by mind-blowing lighting and sound that added to the overall experience.
Overall, the Annual Function of Modern School, Greater Noida, was a spectacular display of talent and fervor, leaving a lasting impression on the minds of everyone present.
Modern School Greater NOIDA | Annual Function 2022 – 23 | Photo Highlights