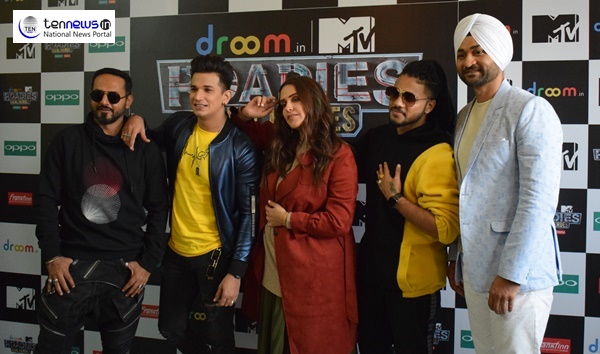 MTV Roadies Real Heroes: Former India hockey team captain Sandeep Singh Joins the Team of Gang Leaders!
PRERIT CHAUHAN ( PHOTO/VIDEO- JITENDER PAL - 05/01/2019 - TEN NEWS
New Delhi: (05/01/2019) Bigger, Better and Bolder the 16th season of India's longest running adventurous reality show is back with a bang on MTV. With a new theme and gang leader. Roadies Real Heroes promises to awaken the hero within through real-life stories of courage, honor and bravery. For the last 15 years, no other show has connected with the youth as strongly as Roadies by simply innovating and challenging the limits of action and adventure. The show, known
For its unique formats and fascinating tasks every season, has the most loyal and aspiring fans who dare to do more.
Legendary sportsman and real-life warrior, Sandeep Singh joins the league for the first-time rocking horns with small screen favorite star Prince Narula who is determined to win. Raaftar whose music echoes amongst the youth is prepped up for his second stint along with seasoned expert Nikhil Chinappa who is here to spruce Up the fight.



Gorgeous, poised and two times winner Neha Dhupia is back to clinch her third title. Being the only boss lady in this man's world. And to top it all is Ringmaster Rannvijay Singh who will stir up the game like never before.
While Speaking to Ten News on the occasion, legendary sportsperson and former Indian Hockey Captain Sandeep Singh who joins the show for the first time ever espressed "This is my first association with the show and the concept of finding real life heroes propelled me. All of us have the potential to rise beyond the ordinary and make a difference and that's what I believe. It's going to be a new experience and i'am eager to explore something I haven't done before."
King of reality shows, Prince Narula said "Roadies is very close to my heart. This show brings out the best in me in terms of physical and mental strength. Season on season, the show is evolving which makes me took forward to newer challenges with my gang and emerging stronger than before. Let's see what the City has instore for us."
"Raaftar who comes back for the second time said "In the new season, i will also have newer plans and surprises up my sleeve to turn things around. Being my second stint I am much more aware and prepped up of what lies ahead, and I'm ready to take on the game with a new gang."