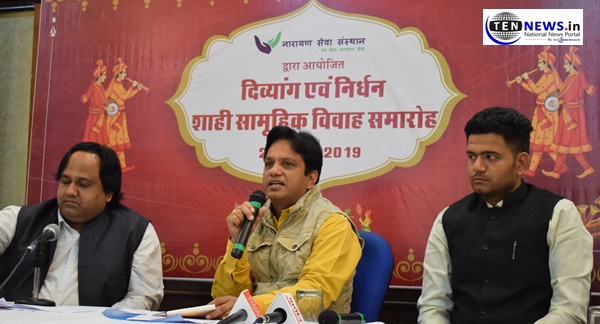 New Delhi : (01/03/2019) Narayan Seva Sansthan is organising a Mass Wedding for 52 Divyang and Underprivileged Couples at New Delhi which is to be held on 2nd and 3rd March2019.
The marriage and ceremonies will be grand events. The couples will be accompanied by the family members, Sadhaks and the respective guests.
Through this initiative, organisation is trying to create and promote the environment of a simple wedding in society along with, supporting these families who could not afford the marriage and stop the dowry system.
Most of the pairs have undergone 'free of cost' corrective surgery for their disabilities at the Sansthan and completed their training there.
Sharing more about the mass wedding, Devendra Choubisa, Spokesperson, Narayan Seva Sansthan said,
"The event is 32rd 'Royal Mass Wedding of Specially Abled & Underprivileged Couples' blessed by Prashant Agarwal, President of Narayan Seva Sansthan. We not only organize the wedding without any cost to couples but also provide them with livelihood and support to start their new lives post marriage. Blessings from such couples and their families are what keep us going towards our goal."
Narayan Seva Sansthan is the hope for physically impaired patients suffering from Polio, Cerebral Palsy,and other by birth disabilities belonging from India, Afghanistan, Pakistan, Nepal, Bangladesh, Ukraine, UK and USA. Narayan Seva Sansthan has operated over 3.7 lakh patients in last 33years and has provided them a full socio-economic support by availing best of the medical services, medicines and technologies in free. This is a place where there is no cash counter for anything that anyone is in need of. It has 1100 bedded hospitals functioning with a team of 125 doctors and nursing staff, who are operating about 95 patients daily and servicing the humanity.