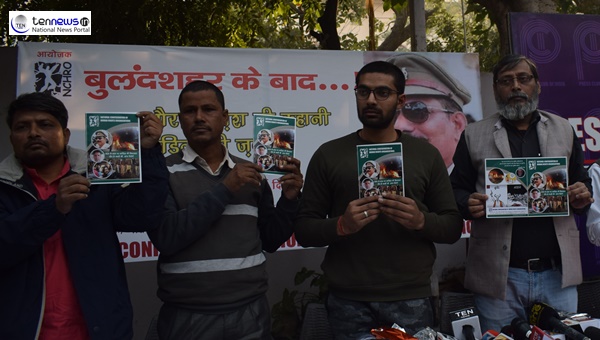 New Delhi:Today, National Confederation of Human Rights Organization (NCHRO) released their investigation report on "Bulandshahr violence" — during an event "Jurm ki kahaani, Pidito ki Zubaani" at Press Club of India — in which Inspector Subodh Singh and a college student Sumit was killed by an unruly mob, on December 3 at Mahav village in Bulandshahr after cow carcasses were allegedly found at a farm.
The NCHRO report is constituted by a five-member investigation team including the senior journalist, Kiran Shaheen and Dr. Bhavna Bedi from Delhi University, which went to the crime location to gather facts.
Following are the demands of the NCHRO's investigation team:
1. Investigation of the case by Special Investigation Team (SIT) under the supervision of the Supreme Court.
2. An immediate ban on the "armed religious extremist organizations" which led to igniting civil wars under the label of "cow protection".
3. Immediate structure of law against "mob violence"
4. To stop crimes related to communal hatred, strong law should be constituted strongly enforced by state governments. Home Ministry should continuously surveillance the issues and every year it is should be discussed in Parliament.
The event was joined by Shrey Singh, elder son of martyred Inspector Subodh Singh, he expresses faith in the ongoing investigation process and satisfied with the actions taken by the police. He is contented with recent developments in the case including the arrest of Prashant Nutt, the detention of Nutt signifies that the officials are succeeding in connecting the missing links which clears the whole picture in near future.