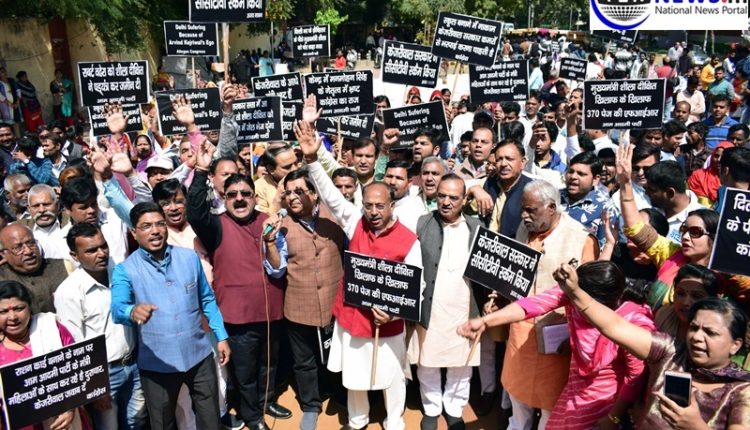 New Delhi: After the announcement of Lok Sabha 2019 elections dates, the political fraternity has tighten their belts.



On March 17, Union Minister Vijay Goel stage massive protest in New Delhi against Arvind Kejriwal led Delhi Government.

The massive sit-in was joined by thousands of BJP supporters who expressed their anger against the Kejriwal government for not fulfilling the promises that was made during Delhi assembly elections and the coming together of Aam Aadmi Party and Indian National Congress.

Several office bearers of BJP Delhi unit also joined the protest to strengthen Goel.
The protesters express their concern if Aam Aadmi Party and Indian National Congress come together what will happen to the national capital.
People also said that Arvind Kejriwal then promised to put former Delhi CM Sheila Dixit in jail in a month after the party elected to power, which is also a baseless claim.
Speaking to Ten News, Union Minister Vijay Goel said, "if Aam Aadmi Party and Indian National Congress will form an alliance, I can assure that Bhartiya Janta Party will clean sweep on all seven Lok Sabha seats in New Delhi. The party who was elected to power to quash corruption is now indulge into massive corruption."
The Union Minister also slammed Congress spokesperson Pawan Khera for using inappropriate words against the Prime Minster Narendra Modi.
Goel also said that we will aware the citizens of the Delhi about the corrupt practices of Aam Aadmi Party Government and place the truth in front of them.
The minister and the protesters also raised slogan of "Mai bhi chowkidaar".