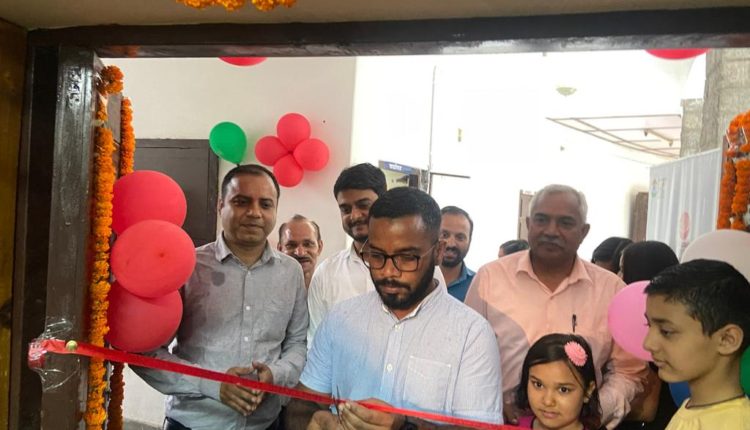 NBT Book Exhibition in Chamba, Himachal Pradesh as part of the Aspirational Districts Programme
A Book Exhibition of various titles published by National Book Trust, India is being organised at the Bhuri Singh Museum from 17th to 23rd June 2022, as part of its activities under education sector for aspirational districts in the first phase.
The book exhibition was inaugurated on 17 June 2022 by the chief guest Shri Amit Mehra, ADM in the august presence of Smt. Sakkini Kaoor, SHO, Chamba along with Shri Umakant, Deputy District Education and Shri Surender Thakur, Incharge Bhuri Singh Museum. NBT books were presented to all the guests.
Inaugurating the 7-day long book exhibition, Shri Amit Mehra, Chief Guest, in his address said that such events are very important and should be organised regularly in order to help more and more people develop habit of reading. He urged the audience to bring along their friends and parents to attend the exhibition having books of all genres available for all age-groups. He added that in today's time when technology has taken over, the interest of reading among students, youth etc. has decreased; hence the role of book fairs and book exhibitions become significant. He thanked National Book Trust India for this effort and wished more such events are held in future as well.
National Book Trust, India publishes quality books at affordable prices to reach general readers in different parts of the country, especially in remote areas. In order to promote the culture and habit of reading in the country NBT-India has organized the first exhibition as part of the aspirational district programme in Chamba district, Himachal Pradesh. Launched by the Hon'ble PM, the Aspirational Districts programme aims to quickly and effectively transform the under-developed districts across the country.
As part of the Azadi ka Amrit Mahotsav, National Book Trust India will organize more such exhibitions, mobile exhibitions and reading movements by the year 2023 to promote book reading in other aspirational districts and rural areas of the country.
Apart from books in Hindi, English, Himachali and Urdu, books in regional languages are also available in the book exhibition. The exhibition also has on display a special collection of books on Param Vir Chakra awardees as well as NBT's new series India@75 which acquaints readers with the lives and struggles of our freedom fighters, apart from providing a platform for readers of all age groups.
The book exhibition is being organised from 10:00 am to 6:00 pm every day. Book lovers can avail a discount of up to 10% while schools and other institutions can get a discount of 25% on their purchases. Entry to the Exhibition is free and all are welcome!