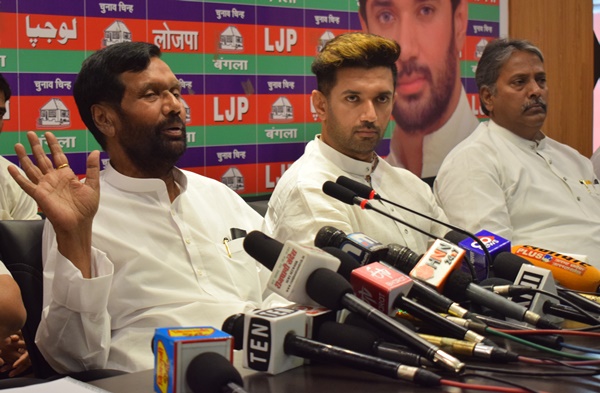 NDA may win over 35 seats of the total 40 in Bihar: Ram Vilas Paswan
PRERIT CHAUHAN/ JITENDER PAL- TEN NEWS
New Delhi: (29/04/2019) LJP Supremo and Union Minister Ram Vilas Paswan has claimed that NDA is winning all the seats in Bihar. On Monday, Paswan said that according to the report so far, we are winning Majority of the seats in Bihar.
Addressing the Media at Party office, Paswan said, "NDA is on track to retain power at the Centre, helped by the PM Modi factor. there has been no contest so far in Bihar. Opposition parties like the Congress and the RJD have been working at cross-purposes while united NDA partners BJP, JD(U) and LJP have got better of them in most seats."
"Our vote is increasing in every phase. The Modi factor was recently at work in the Prime Minister's massive road shows in Varanasi and Jharkhand. More people are joining us. On the other hand, Opposition parties have not been able to unite either in Delhi or here in Bihar. People wonder what is the point of even voting for them as they don't know what these parties will do," he said.
"The NDA may win over 35 seats of the total 40 in Bihar. It had won 31 in 2014. Congress president Rahul Gandhi and RJD's Tejashwai Yadav have often avoided campaigning for candidates of the other party," added Paswan.