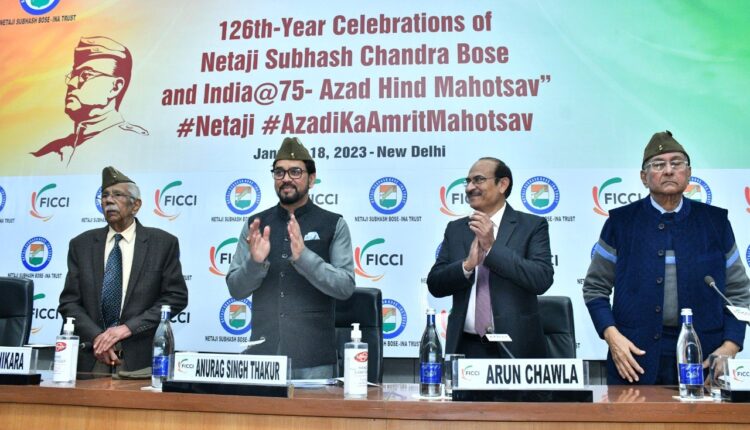 Need to spread awareness about Netaji among youth: Anurag Singh Thakur

NEW DELHI, 18 January 2023: Mr Anurag Singh Thakur, Minister for Information and Broadcasting and Youth Affairs & Sports, Govt of India today stressed that as India is celebrating Azadi ka Amrit Mahotsav, it is imperative that India's youth should come forward and contribute more to this journey as they play a very crucial role in shaping the future. "It is also important to focus on the 5 pledges 'Panchprana' development strategy announced by the Hon'ble Prime Minister Mr Narendra Modi for the next 25 years. These include goal for a developed India; Freedom from the idea of servility; Pride in Heritage; Unity and Solidarity; Fulfilling one's duty," he added.
Addressing the '126th-year celebrations of Netaji Subhash Chandra Bose and India@75 – Azad Hind Mahotsav' organized by Netaji Subhash Bose-INA Trust and FICCI, Mr Thakur stated that by adopting these 'Panchprana' we will not only take India to newer heights when India will celebrate its 100 years of Independence but will also realize the dream of Netaji Subhash Chandra Bose of a new independent India.
Mr Thakur also stated that in order to achieve the dream of Netaji, it is important to spread awareness among the youth. "We have to work continuously to spread Netaji's achievement to every citizen of the country and the government is also working proactively in this direction. There are a lot of learnings which need to be adopted by our youth to prosper in life," he added.
Mr Thakur also urged FICCI and Netaji Subhash Bose-INA Trust to continue spreading awareness about Netaji to every citizen and his Ministry along with other agencies and associations will also work in this direction, he emphasized.
Mr Jay Bhattacharjee, Writer, Columnist and Corporate Analyst stated that Netaji's life was a life of introspection, service and we need to adopt these in our lives. "Netaji had a forward thinking and the vision of industrialization and post British economy not just confined to jute and cotton but agriculture and other activities," he added.
Mr Arun Chawla, Director General, FICCI said that India has recently assumed the G20 Presidency, and India is now setting the narrative for the world. This is the India that Netaji had dreamt of – a state which is economically strong and has a greater role in the world affairs. "As we commence our journey in the period of Amrit Kaal, it is crucial for us to reflect on all we have achieved in the last 76 years and what needs to be further done," he added.
Brig RS Chhikara, Chairman, Netaji Subhash Bose-INA Trust delivered the welcome address and Dr Nidhi Kumar, Trustee, Netaji Subhash Bose-INA Trust moderated and presented the vote of thanks during the session.