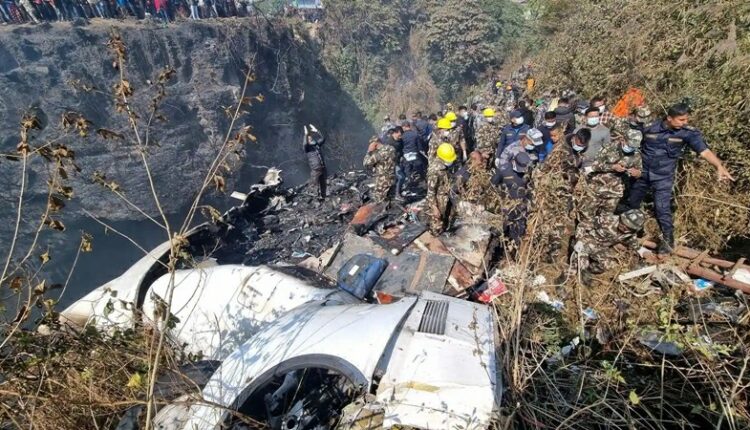 Nepal plane crash: 68 passengers dead, search and rescue underway at accident site
Ten News Network
Nepal, (15/01/2023): As many as 68 people were killed and more were missing on Sunday when a twin-engine ATR 72 aircraft operated by Yeti Airlines crashed in Nepal.
Confirming the death toll, Nepal's Civil Aviation Authority told press that the death toll in a plane crash at Nepal's Pokhara airport had increased to 68.
The plane, which was carrying 72 people, including two infants, four crew members, and 10 foreign nationals, was en route from the capital, Kathmandu, to Pokhara when it crashed.
The cause of the crash is still unclear, but reports suggest that the plane made contact with the airport from Seti Gorge at 10:50 a.m. (05:05 GMT) before it went down, with thick black smoke billowing from the crash site.
Rescue workers and crowds of people immediately rushed to the wreckage of the aircraft, where they provided assistance to the injured. Nepal Prime Minister Pushpa Kamal Dahal has called an emergency cabinet meeting after the plane crash and expressed his deep sadness and condolences to the families of the victims.
This is Nepal's deadliest plane crash since March 2018, when a US-Bangla Dash 8 turboprop flight from Dhaka crashed on landing in Kathmandu, killing 51 of the 71 people on board. In May, a plane owned by Tara Air also crashed less than 20 minutes after taking off from Pokhara.
Nepal is known for its challenging flying conditions, with eight of the world's 14 highest mountains, including Mount Everest, and sudden changes in weather. Since 2000, at least 309 people have died in plane or helicopter crashes in Nepal.