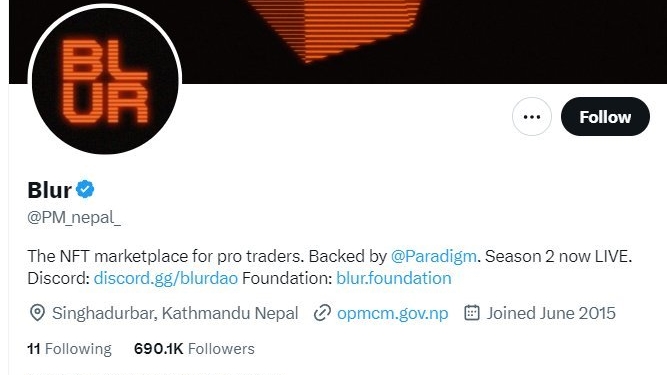 Nepal PM's Official Twitter Handle Hacked
Ten News Network
Nepal, 17th March 2023: On Thursday, two unauthorized tweets were reposted from the PMO Nepal account, the official Twitter handle of Nepal's Prime Minister Pushpa Kamal Dahal Prachanda's office, according to media sources.

Hackers gained access to the Prime Minister's Office (PMO) Twitter account, which had the username "@PM_nepal_," and changed the name to "Blur," according to The Kathmandu Post daily. Two tweets about digital currencies were reposted by the hackers.
The account was compromised for a while, according to Prachanda's secretary Ramesh Malla, but the Twitter handle was recovered, within a short period of time.
The report stated that the unauthorized posts remained even after the account was restored.
According to the newspaper myRepublica, neither the PMO nor the Secretariat made any formal statements regarding the breach.
The Prime Minister's Press Coordinator, Suryakiran Sharma said, "There has been a problem since yesterday. Some tweets have been retweeted as well. Technicians are trying to solve the problem. It will be resolved shortly,"
This isn't an isolated event and earlier on January 28th many Nepalese Government websites had been compromised which was one of the largest cyberattacks in any country.