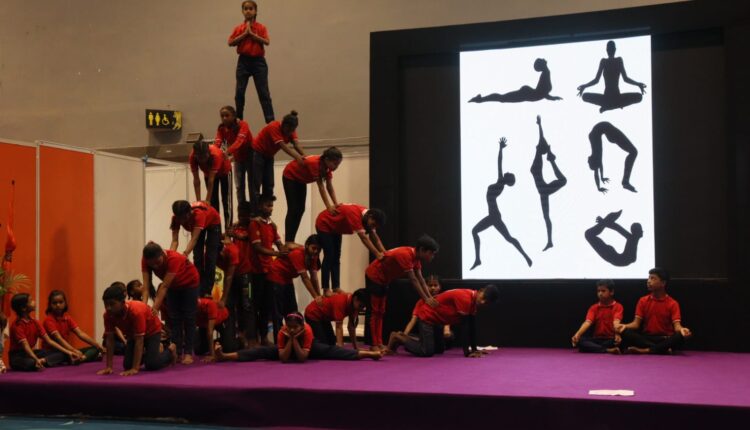 New Delhi World Book Fair 2023 – Rooted in Indian Knowledge Tradition

Encompassing a vast array of disciplines, including philosophy, religion, science, medicine, mathematics, literature and the arts, the Indian Knowledge Tradition is a rich and ancient system of knowledge. Celebrating this vast and complex system of knowledge that has had a profound impact on the development of Indian culture and civilisation, New Delhi World Book Fair 2023 is bringing the right blend of this tradition under one roof.
The Children's Pavilion's activities today were centred on India's vast cultural diversity. The programmes covered India's ancient practice of Yoga and art styles like Madhubani through workshops. There were also several activities like storytelling and creative writing workshop, that gave children a tour of India through camel and japis motifs from the States of Rajasthan and Assam. In Meet-the-Author/Illustrator session, children explored numerous classical dance styles from different regions of India with Jaya Mehta, Natalia Suruba and Swati Chakravorti.
Adding to the star studded affair, Actor and Author, Kabir Bedi in conversation with Ajay Jain, talked about his new book 'Stories I Must Tell". Talking about writing a bestseller, he said, "The story must have a promising beginning, a conflict in the middle and a satisfactory end. The reader must feel compelled to turn the pages, otherwise they lose interest in the book."
In the session Prime Time Talk at the Theme Pavilion, Author Priyam Gandhi Mody talked about her book 'A Nation to Protect' which gives an account of the Central government's  fervent response to the first and second waves of Covid-19, the contagious virus which shook the world with its unpredictability. Earlier in the day, children from the All India Confederation of the Blinds staged a short play on the Freedom Fighter Chandrashekhar Azad.
In a special session, the Education Conclave 2.0 that was conducted on the sidelines of the Fair, policymakers and senior officials from Education, Culture, Panchayti Raj and Women & Child Development, Electronics & Information Technology from the Central Government and 20 states and Union Territories deliberated on theme of changing dimensions, continuing relevance and future of books and reading. In the session on immersive learning experience, emphasis was given on creation of age appropriate digital content and delivery for the National Digital Library Project for Children and Adolescents.  IIT Delhi with NBT India plans to join hands to take the art of storytelling in the world of virtual reality and mixed reality for an enjoyable learning and reading experience. "Today we need more content that connects the child to the learning process by taking it beyond the textbooks," Shri Yuvraj Malik, Director NBT-India said in his address. . Prof. Smt Mugdha Sinha, Mission Director, National Mission of Libraries, in her address said, "There is a focus on libraries to take them to all levels – from grassroots, schools and Panchayats, and make them into knowledge centres, especially at the rural level and a community driven mission."
On this occasion Sh. Sanjeev Khirwar, IAS, Principal Secretary School Education Ladakh, Mrs. Preeti Tongria  Additional Secretary Panchayati Raj Department, Bihar, Dr. Mohan Lal Yadav, State Project Director- Rajasthan, Dr. Rupesh Kumar , Special Secretary Secondary Education Department, Uttar Pradesh, Ms. Resham Raghunath Nair, Deputy Secretary, Ministry of Women & Child Development was present among others.
Govind Prasad Sharma, Chairman, NBT-India in his address said that the National Education Policy 2020 provides a flexible framework to the education sector to prepare a more joyful learning atmosphere by integrating toys, activities etc., in the learning process deliberated on various avenues for making content more accessible
Over the coming two days, apart from scores of books, visitors to the fair will get a chance to meet and listen to many bigwigs from the literary and entertainment sphere like Preeti Shenoy, Anand Neelakantan, Kumar Vishwas, Johar Ali Khan and many more. A Yoga Workshop by Swami Satyadev from Patanjali Yogpeeth, Haridwar will be organised on 4 March 2023 and is open for all. Stocked with general & trade titles, books on science & technology, social science, humanities in Hindi, English and other Indian languages, and children's books, the two thousand odd stalls at the New Delhi World Book Fair are a haven for booklovers. Apart from this, the International Events Corner, Theme Pavilion, Authors' Corner, Lekhak Manch and Seminar Hall are also hosting events, book launches, sessions and seminars throughout the duration of the fair.