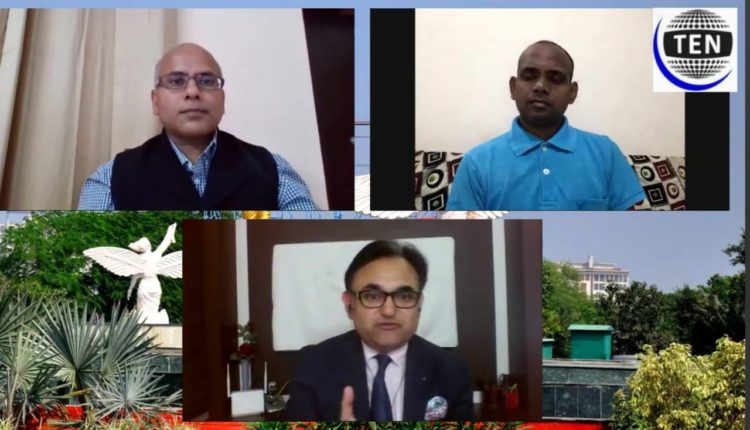 In a webinar by Ten News, ITS Group's Executive Director Prof. (Dr.) Vikas Singh was confident that there has been no impact of COVID-19 and lockdown on the placements of final year students (2019-20).
"The students had alredy got their job offers last year, and companies have not withdrawn those job offers so far." Dr. Singh said.
In case of the upcoming batch of final year students (2020-21), he said the impact on placement of this batch depends upon how economy performs. In case of V-shape economic recovery, the placement of this batch would not be affected even if the placement session starts late this year.
However the process of selection can be slightly different with companies opting to recruit students via online exams and interviews in case of restrictions on movement.
Another panelist, Deepak Srivastava, IT professional at HCL, said that the work and productivity of the employees has not been hampered despite the lockdown and there has been minimal impact of lockdown on the IT industry.
On management of virtual classes, Dr. Singh said that shift to e-classes from offline classes has been smooth primarily because of the existing familiarity of students with technology. First time they are productively using the technology.
The challenge lied more with the teachers which was dealt though training sessions on conducting e-classes.
On internship, Dr. Singh said that ITS has 7 centres of excellence (7 labs) which are covering practical aspects of students syllabus.
ITS has created certificate programs for students which will be equivalent to internships. Six or more weeks MOOC programs from NPtel, Coursera etc will also be equivalent to internships."
On assessments, Dr. Singh said that there are 2 kinds of assessments – one which are conducted during the regular session, whereas the another assessment is conducted at the end of the session
"The first type of assessment is being conducted through many online platforms like microsoft teams, google docs etc., whereas the second type of assessment will be conducted as a pen and paper exam after the lockdown ends."
//youtu.be/_YG91PrQf60
(NOTE : Views of Deepak Srivastava are his own and personal and nothing to do with any organisation)