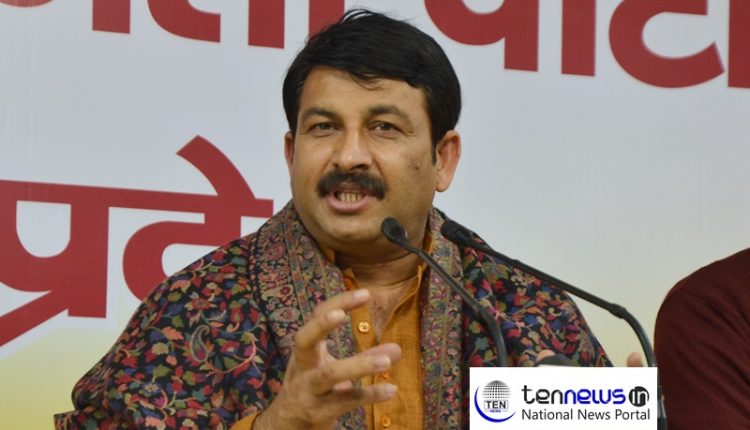 KASHIF HASNAIN (PHOTO/VIDEO BY SAURABH SHRIVASTAVA)
New Delhi: The monitoring team of the Delhi Municipal Corporation (DMC) which has been sealing the shops will stop hounding the shopkeepers in Delhi now, said Delhi BJP Chief Manoj Tiwari on Thursday afternoon.
"The sealing drive in special areas of the city has been stopped until the issue has been resolved. Monitoring team assured us " said Manoj Tiwari. "we met with the Housing and Urban Development Affairs Minister, Hardeep Singh Puri in this regard who assured for all possible help", Added Tiwari.

He further said that BJP has also talked to the monitoring committee to start desealing those shops which has been sealed earlier. "After the official notification of DA the desealing of shops will kicked start likely from tomorrow.
Delhi BJP has given a three point proposal to the Union Minister Hardeep Sinhg Puri, Delhi LG, Anil Baijal which claimed to be accepted by them. Exempt conversion charges, legalise basement for commercial use and increase RAF.

"Tomorrow, we will have a meeting with Delhi LG Anil Baijal, Union Minister Hardeep Singh Puri and other agencies concern to chalk out the solution." Tiwari added.
While commenting over the National budget proposed by the Finance Minister Arun Jaitley in the Parliament on Thursday afternoon Manoj Tiwari termed it as a Garibo, Kisano or Mahilao ka budget. It is a balanced and development oriented budget which will benefit all.
Referring to the budget, he said "Today is my birthday and I'm very happy to say that this is one of best birthday gifts I have ever had. This is unique budget in the world where which will help to boost agriculture, education and so on. He especially emphasised on heath scheme and jump in MSP. As a Member of Parliament from North East Delhi he said, "We budget have too much for Delhi. Special funds to tackle pollution in Delhi and so on."