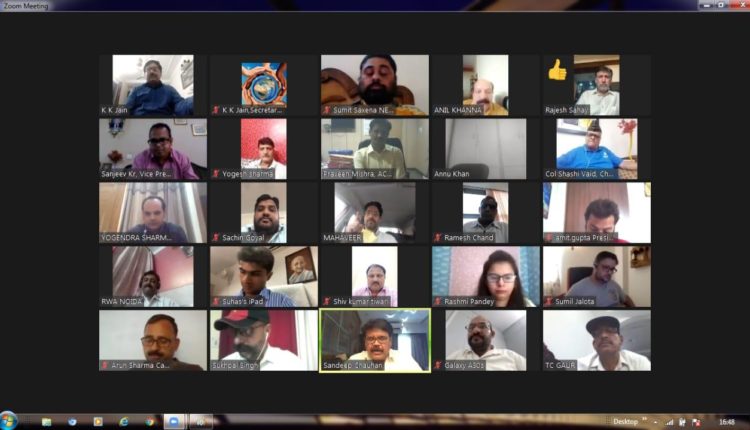 NOFAA raises important issues with Gautam Buddh Nagar DM relating to Management of COVID-19
By Rajiva Singh, President, NOFAA
In a virtual meeting held with Gautam Buddh's Nagar DM, NOFAA raised following issues relating to Management of COVID-19 in the district. It also thanked the administration for coming up with modifications in the containment zone definition. It will indeed benefit a large segment of people in high rise, as per the NOFAA.
1. Testing : Need of rapid testing / pool testing procedures for urban villages (rural areas of noida) where most of the domestic helps, service engineers etc. come from. Also regular testing for grocery shop owners, vegetable shops, milk booths etc around high rise building where most of the high rise dwellers visit. Some process for testing needs to be evolved so that no super spreaders are created in Noida.
2. Travellers: Inter district and inter state protocols and guidelines for AOAs. Also need to ease out the process of getting e-passes for such travels.
3. Sealing process whenever a COVID19 case is detected in a high rise, the turnaround time for sealing takes quite some time which adds up to the anxiety of the residents. Similarly there are delays in the reverse process of desealing.
Also after the new containment zone guidelines coming into effect, there are delays in converting complete sealing to a single tower sealing in some existing high rise . Same needs to be addressed.
4. Request for a weekly doctors / health camps at high rise societies for common ailments like BP, sugar etc Needs to be made part of the process to ease life for senior citizens, who currently find it a challenge visiting hospitals in this time of pandemic
5. AOAs needs more support from administration and clear cut guidelines on domestic helps.
6. Delhi – Noida travel needs to be relaxed. Lot many are on the verge of losing jobs.
According to NOFAA, Suhas LY has responded positively on majority of the issues raised by NOFAA. Suhas stressed that all decisions would be considered keeping in mind the balance between health of residents and convenience of residents.