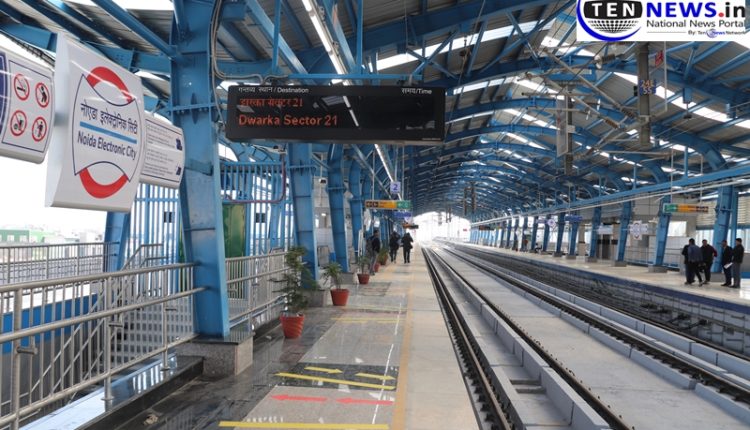 Noida City Centre – Noida Electronic City metro corridor ready for operations, Likely to be inaugurated on March 8
ROHIT SHARMA / TALIB KHAN
Noida :–  The Delhi Metro Rail Corporation have added new feat to its achievements. The Delhi metro's Blue line, which connects the NCR region to the Capital, stretches a bit more to reach the Electronic City in Noida.
The 6.675 kilometre long Noida City Centre – Noida Electronic City metro corridor which will connect many new areas of Noida with the rest of the National Capital Region (NCR) is now ready for its operations.
This extension of the presently operational Dwarka Sector 21 to Noida City Centre Blue Line comprises of six elevated stations, sector 34, 52, 61, 59, 62 and Noida Electronic City.
This corridor is completely elevated and will be on Broad Gauge. The stations are on the Central verge and the alignment is running close to NH-24. After the opening of this section, the Dwarka sector 21-Noida Electronic City Blue line will become 56.46 kilometres long.
This section will be a major boost for many residential localities in sectors 34, 52 and 22 as well as commercial areas in sector 59, 61, 62 and Electronic City. The Electronic City station is at the Noida Ghaziabad border which will also benefit the residents of Ghaziabad.
Two major hospitals in the vicinity, Fortis hospital and Life Care hospital will also get direct Metro connectivity. The Electronic City metro station will also provide parking facility for the commuters.
The Noida Electronic City station has been constructed at a height of about 21 metres, making it on of the highest stations of the Delhi Metro Network.
Trains will be available at a frequency of 5 minutes and 26 seconds during the peak hours from Noida City centre to Noida Electronic city. The total running time between Noida City centre and Noida Electronic City will be 12 minutes and 23 seconds.
The new corridor will likely to be inaugurated on 8th March 2019.