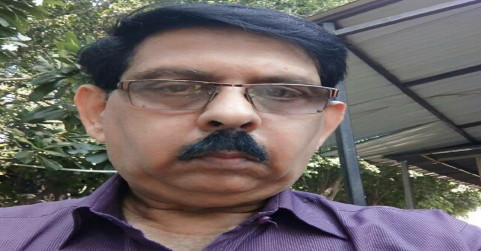 Noida media fraternity mourns death of senior journalist Kapil Dutta
Ten News Network
On Friday morning, the press fraternity of Gautam Buddh Nagar lost a gem in Kapil Dutta, a senior journalist at Hindustan Times, who succumbed to Covid-19.
Dutta tested positive for the virus around 10 days back, since then he was under treatment in Delhi's Vimhans Hospital where he was found infected with pneumonia. On Friday, he took his last breath.
As soon as this news broke out, condolence messages and tributes started floating on social media. In their condolence message, Press club, Noida wrote, "Senior journalist and great humanist Kapil Dutta ji was undergoing treatment in Delhi after he was infected with Coronavirus. Unfortunately, he died this morning in a Delhi based hospital. Today he will be cremated with Covid-19 protocol at his residence in Sector-94, Noida. Kapil Dutta was like a father to many of us. We wish God his spiritual peace and encourage the family to bear this irreparable loss."
"He was like a father figure to me. He advised me to join the Noida team as I was in HT Gurugram then. He was always helpful, affectionate and polite. Everyone in Noida used to say only one thing about him- he is a real gentleman. I'm extremely sad to hear this… Wrote Senior Journalist, Hindustan Times and Secretary-General, Noida Media Club  Vinod Rajput
Director of BIMTECH Dr.
Harivansh Chaturvedi took to Twitter to pay tributes to Dutta. He wrote "This epidemic has snatched many great and important people from us. One of them is Kapil Dutta. I have been in contact with him for more than two decades. He was a very sensitive and outstanding
journalist. He continued to write on the education world. Many of his articles
have proved to be important in the advancement of the education sector. I pray
to God to comfort his soul. "
Ten News Network Founder Gajanan Mali said, "Very sad news indeed. He was frequently in touch with me. May his soul rest in peace."
Due to the centre's guidelines, Dutta's cremation couldn't take place in Noida and he was taken to Electric Cremation Ground, Nigam Bodh Ghat in Delhi.