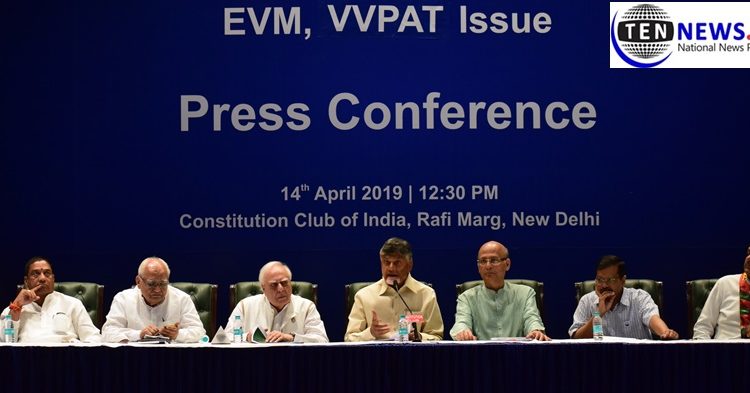 Opposition Raises Doubts About EVMs, Says EC should ensure at least 50% counter-check of paper trail of all EVMs
Prerit Chauhan (Photo/Video) By Lokesh Goswami Ten News Delhi :
New Delhi: After first phase of Lok Sabha elections, 23 Opposition parties of Mahagathbandhan has again raised the bogey of EVMs. Chandrababu Naidu leading opposition attacked over EVMs and demanded ballot votes for Elections in a Press Briefing at Constitution Club of India, New Delhi.
Delhi Chief Minister Arvind Kejriwal, Congress leaders Kapil Sibal and Abhishek Singhvi, Surendra Singh Nagar from Samajwadi Party were among those who attended the opposition meet in New Delhi on Sunday.
Andhra Pradesh Chief Minister and TDP chief Chandrababu Naidu
Criticizing Election Commission over malfunctioning EVMs said, "Very few countries have opted for EVMs and even advanced countries like Germany and the Netherlands have opted for ballot papers. Paper trail is indispensable for EVMs. The confidence of the voter can only be restored through paper trail machines.They have removed nearly 25 lakh voters in Telangana."
Delhi chief minister Arvind Kejriwal, in the Opposition's joint press conference on Sunday, said, "People have lost faith in EVMs. EVM's are manipulated for winning the Lok Sabha elections by the BJP."
Congress leader Kapil Sibal said, "We believe in voters, not in voting machines. Why are VVPATs not ready to count 50 percent. if EC is going to ignore these facts then we will try some other ways.we can tell EC how these machines can be manipulated. We are not ready to accept EC's decision."
Congress leader Abhishek Manu Singhvi, in the Opposition's joint press conference on Sunday said, "Names of Lakhs of voters are deleted online without physical verification. There is a long list the parties have given to EC. It has become even more necessary to count at least 50% of the paper trail of VVPAT. We will demand the same in Supreme Court."
He added, "Questions were raised after the 1st phase of election,we don't think EC is paying adequate attention. If you press the button before X Party,vote goes to Y party. VVPAT displays only for 3 seconds, instead of 7 seconds."