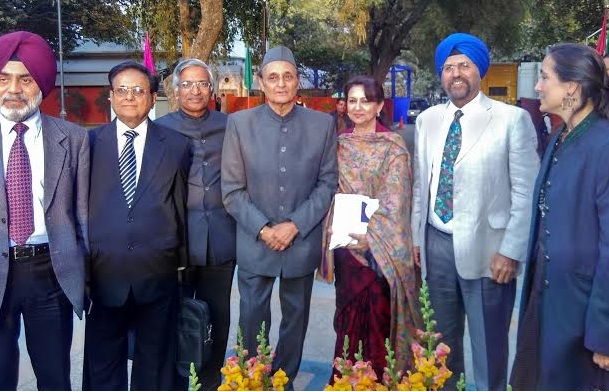 Overwhelming response to the 1st DGC Litfest By Bipin Sharma
The city's premier Delhi Gymkhana Club (DGC) organized the first ever Literature and Ideas Festival at the Centenary Lawns from 12th to 14th February' 2016. Former Governor of Arunachal Pradesh & Chief of Army Staff Gen J.J Singh (Retd) inaugurated the festival. Film stars, authors, journalists, academicians, politicians, and artists participated in the 3 day long festival. Notable among the prominent personalities included the likes of Dr Karan Singh, Vikas Swarup, Valmik Thapar, Anuja Chauhan, Sharmila Tagore, Pavan Varma, Nandita Das, Rajdeep Sardesai, Dr. Farooq Abdullah, Isher Ahluwalia and Sunita Narain.
In its maiden attempt in organizing a Litfest in its premises, the DGC organizing committee comprising Lt Gen IJ Singh (Retd), Lt Gen Anil Bhalla, Urmila Gupta, Dr Anjana Neira Dev and others did a remarkable job in ensuring the success of the festival. This Festival is the first of what is being planned as an annual event in the Club's cultural and events calendar.
The inauguration on the 1st day was ensued by a session on "The Role of Civil Society: Change from Above or Below" which witnessed an animated conversation of Pavan Varma, Mani Shankar Aiyar, Suhel Seth, Dipankar Gupta with Vikram Chandra from NDTV.
The Litfest saw a riveting line up of authors, writers, media personalities, academics, artists and poets on the next two days.
For young readers upto the age group of 14-15 years, a special Workshop "All Things Harry Potter" was conducted by Anurima Roy for children on 13th Feb at the Rose Garden. Children enthusiastically took part in the workshop, and urged the organizers for planning more workshops from time to time in DGC.
Talking about the initiative, Urmila Gupta, Director DGC- Literature & Ideas Festival shared, "Incepted with the objective to entertain, inform and stimulate, we firmly believe that the 1st DGC Literature and Ideas Festival will open new frontiers to the world of ideas and creativity". Spring is the time for renewal and new beginnings which is precisely why the club decided to give an auspicious start to the Litfest on Basant Panchami, commencing with the inaugural session on Friday Feb 12 evening. My approach in putting together this Festival was to cover a wide gamut of topics with subjects of Interest to general audiences book lovers, and also to the specialists and academics amongst us, with a sprinkling of thought provoking discussions, debates on topical issues representing a cross section of opinions, without I hope being seen as partisan or controversial, bestselling authors, history, economics and social issues, environment& sustainable development, humour and women in society today."
Buoyed by the overwhelming response, the Delhi Gymkhana Club has got encouraged to organize the Litfest on a regular basis. The festival promises to introduce readers to more exciting new books and authors.
Lt General I J Singh (Retd), President, DGC informed, "Most outsiders view us as a club that is primarily focused on sports since we keep organizing sports related events round the year. But let me inform that we are equally keen on promoting cultural and literary activities. We have a committed and enthusiastic audience for the regular Book Club events which are organized by the Library Sub Committee. We are fortunate to have been able to attract several eminent authors, celebrities and opinion leaders over the years to speak at these events, and this prompted us to organize the 1st DGC Litfest. An ambitious cultural event of this scale is probably a first for a sporting club like ours anywhere in the country, and we are keen to make this festival an annual affair. The spate of Litfests all over the country has created awareness and audience interest in such events, and we are delighted to bring one to your doorsteps. For the first time the club is opening this event for non-members and invitations by registration will be available to members of the public."
The day's programs were followed by dinner and entertainment every evening that included a 50 Piece Army Symphony Orchestra on Feb 12th and Valentine's Eve Tango and Salsa performances on Feb 13th.
"The Media and the Intolerance Debate: Has Verdict 2014 changed India" saw speakers Salman Khurshid, Ashok Malik and Rajdeep Sardesai engage in a stimulating conversation with Aniruddha Bahal.
As has been the usual norm with every debate or discussion, the audience got a chance to pose some tough questions to the panelists at the end, with most of them being directed towards Rajdeep Sardesai. While Rajdeep gave a mix of some convincing and some unconvincing answers, it helped in making the discussion more absorbing.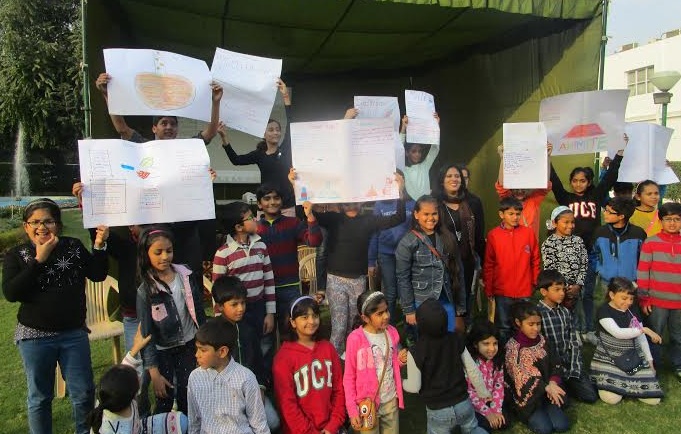 Going by the reactions of both members as well as the non members, the DGC organizing committee had a reason to feel pleased for having successfully conceptualized a 3 day long Litfest sans any hiccups or glitches.
In an exclusive brief chat with tennews.in, both Sharmila Tagore and Dr Karan Singh seemed pleased with the novel experiment of the DGC, and congratulated the organizing committee for all their efforts.
Corporate HR consultant and a club member Meenakshi Anand remarked, "Kudos to DGC for the wonderful initiative. I attended the fest on all the three days, along with my 2 kids. It was a welcome change for me and my family as we usually visit the club to avail the sporting facilities, or to socialize with friends and relations. The Litfest initiative has added another feather in the cap of the 103 year old club that boasts of an elite member list comprising former prime ministers, senior government and defence officials, members of the judiciary, corporate honchos, business houses and other eminent citizens. The fact that the DGC at times, throws open its doors to non members too, on few select occasions like the 'Litfest' is a praiseworthy step as it enables them to share such incredible initiatives with a wider audience."