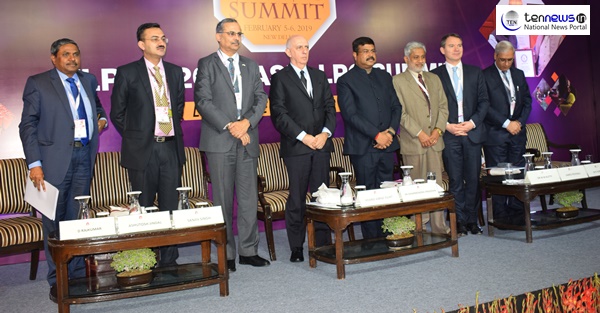 Petroleum Minister Dharmendra Pradhan Inaugurates 'WLPGA 2019 Asia LPG Summit' in New Delhi!
PRERIT CHAUHAN ( PHOTO/VIDEO- JITENDER PAL) - TEN NEWS
New Delhi (05/02/2019) : India's success story on Pradhan Mantri Ujjwala Yojana and other policy interventions that have significantly helped expand the usage of LPG as a safe cooking fuel will be a major talking point as Invigorating discussions, Industry Outlook, Emerging trends, Business Networking and delegates from across the globe come together in the national capital to take part in the 2nd edition of the Asia LPG Summit.
On Tuesday, Dharmendra Pradhan, Union Minister for Petroleum & Natural Gas, inaugurated the Two Day 'WLPGA Asia LPG Summit', and also delivered the keynote and inaugural address. The summit is being organized by the World LPG Association (WLPGA) in association with major Indian public-sector oil companies (OMCs) Indian Oil, Hindustan Petroleum, and Bharat Petroleum at the Taj Palace Hotel in New Delhi.
More than 1000 delegates from over 20 countries are expected to attend the prestigious two day event where deliberations will focus on impact of PMUY (Pradhan Mantri Ujjwala Yojana).
On the Inaugural Day the Summit saw the discussion about growth opportunities for the LPG industry, particularly in context of increased LPG supply security globally.
Addressing an august gathering of energy captains, policy makers and delegates from around the globe at the Asia LPG Summit 2019, Petroleum Minister Dharmendra Pradhan said,
"The Asia LPG Summit 19 will serve as a great platform for the global LPG industry & academia to learn about the transformation taking place in the Indian LPG sector with initiatives like PMUY. Wish the two day conference a huge success."
He further said, "Collaborations in the energy sector will not only promote economic development in the Asia-Pacific region it will also raise the standard of living in these regions leading to a prosperous shared future.The successful implementation of PM Ujjwala Yojana has been hailed by various multilateral organizations and developed countries and has also set an example for replication in various developing countries of the world."
"With estimated imports of above 12 million metric tonnes in financial year 2018-19, India stands as world's second largest importer of LPG after China," added Pradhan."
M M Kutty, Secretary, Government of India, Ministry of Petroleum & Natural Gas, said, "It is a matter of pride that PMUY is leading the 2nd LPG revolution in the country. Over 10 million Indian voluntarily gave up their subsidy to help provide clean fuel in poor's kitchens."
Pedro Jorge Filho, President WLPGA & CEO , Ultragaz, Brazil addressed a vibrant gathering at Asia LPG Summit19 and shared his delight on the success of PMUY as world's largest social development scheme. He deliberated that much could be learnt from the success of PMUY.
The Inaugural Addresses was followed by a Round Table Discussion on The 'Ujjwala' Model:Journey, Success and Learnings for the emerging world, where M K Surana, Chairman, Hindustan Petroleum Corporation, India Neel Ratan, Regional Managing Partner, Pricewaterhouse Coopers, Farzana Afridi, Indian Statistical Institute, Sunita Narain, Director General, Centre for Science and Environment, Shreerupa Mitra, Executive Director, The Energy Forum, Nidhi Prabha Tewari, Social Sector Consultant, Ministry of Petroleum joined the Discussion.
Nidhi Prabha Tewari, Social Sector Consultant, Ministry of Petroleum, speaking to Ten News said,
"After various modifications, today PMUY has become universal i.e. available for all poors. We have built a great foundation, now we have to maintain the momentum to sustain the usage of LPG.Success of PMUY is best measured in the smiles it spreads on the face of poor rural women. Clean cooking fuel like LPG has empowered women with better health and happiness."
Farzana Afridi, Associate Professor Indian Statistical Institute, Speaking to Ten News highlighted the statistics behind PMUY. She highlighted that nearly 3-4 hours per day is saved by a rural woman who switched to LPG from traditional fuel.
"Emancipated from the drudgeries of smoke filled kitchen, women now are now devoting more time to family due to spending less time in kitchen with the use of efficient and safe fuel like LPG," she said.