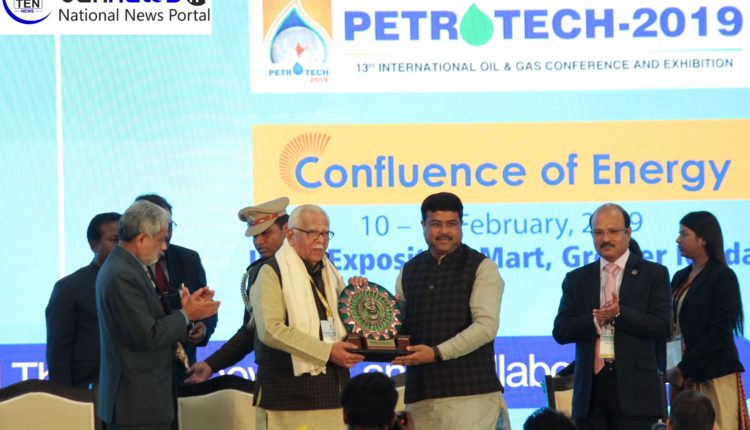 Petrotech-2019 was a success and ended on a good note: Petroleum Minister Dharmendra Pradhan
Prerit Chauhan / Baidyanath Halder
Greater Noida (12/02/2019) : Exhibitors showcased extensive services & Oil & Gas capabilities within India & the rest of the world at Petrotech 2019. Visitors also experienced CSR initiatives in Virtual Reality. This year Petrotech was different in many ways and one of them was the paperless registration process which is quick, easy & user-friendly and An initiative towards Greener India & Cleaner India by Petrotech.
The Day-3 at Petrotech 2019 began with a Plenary Session on Building Energy Ecosystem through R&D and innovation. The Panel saw the Participation of Anil Kalkodkar, Lord Adair Turner, Raman Nanda, Jon Creyts, Saurabh Kumar, Adil Zainulbhai.
The Panelist spoke About the need to produce more energy with lesser emissions and how R&D can play a critical role in achieving it.
Narendra Kumar Verma, D Rajkumar, Gerd Deusser, Anand Laxmivarhan, Hemant Dabke,Pramod Agrawal, Mamomoy Das Joined Another Crucial Panel Discussion on Digitital Transformation of Oil & Gas Sector.
Speaking on the Theme, D Rajkumar, ED, BPCL, said, "The Oil & Gas industry has been known to be at the forefront of technology innovation since the industrial revolution, driving mobility and power needs of the world. Technology advances, such as hydraulic fracturing, have consistently reshaped every stage of the Oil & Gas sector, from ground exploration to your tank."
Anand Laxmivarhan Speaking on Digitital Transformation of Oil & Gas Sector, said, "Enhancements in the smartphone industry have made creation of photo realistic content accessible, which in turn has driven the global adoption of Augmented Reality (AR) and Virtual Reality (VR) applications. The Government's vision for a Digital India through mass digitisation has made the practicality of a "mobile first" generation, which uses mobile phones as primary interface for information, a possibility."
Narendra K Verma,MD,ONGC Videsh, said, The Oil & Gas industry is one of the sectors that is constantly booming. in this digital age, business information holds enormous amount of information and processing them can unlock new values. The data must be analysed and translated into actionable insights. This is where Al and Machine Learning make the difference. With tools like Al, companies have shifted from "production at all costs" and adaptation of "production in context" has risen."
Speaking to Media after the Successful Conclusion of Petrotech 2019, Petroleum Minister Dharmendra Pradhan said,
"Collaboration & Innovation was the mandate for Petrotech 2019 and I am sure that the exhibition, buyer seller meet & other opportunities provided by Petrotech 2019 would have resulted in concrete business or created new beginnings of deals & relationships."
"Petrotech-2019 was a success & ended on a good note. India has become a big consumer and is becoming a producer as well. This time representation increased. Bilateral discussions with almost 16 countries also took place," added Pradhan.
The three-day biennial event at India Expo Mart Concluded with a Valedictory Session and Award Distribution.