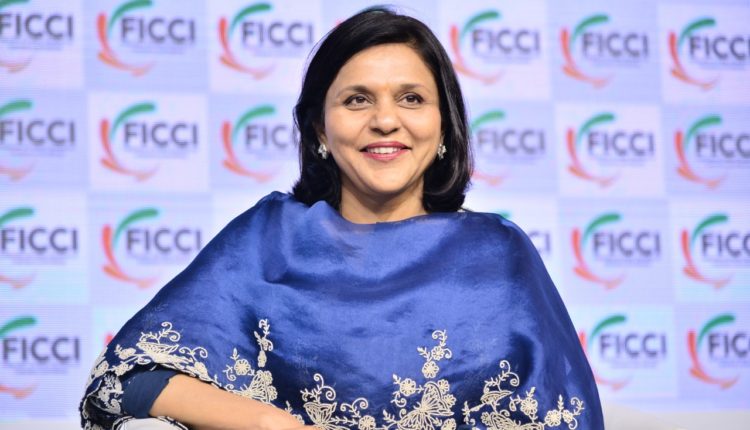 Pharmacoeconomics can aid policy makers and healthcare providers in evaluating affordability and access to reasonable drug use: Dr Sangita Reddy, Immediate Past President, FICCI
Ten News Network
NEW DELHI, 23 September 2021: Dr Sangita Reddy, Immediate Past President FICCI, and Joint Managing Director, Apollo Hospitals Group today said that as technology and drug therapy is growing, evolving, and changing at an unprecedented pace thereby making the role of Pharmaco- economics in health policy decision truly significant.
Addressing the inaugural session on Government Policies for Healthcare Transformation at the virtual conclave on Integrating Methods of Pharmaco-economics to Accelerate Healthcare Transformation 2.0 (IMPACT 2.0), organized by FICCI, Dr Reddy said that the Government of India has taken significant steps to address health in equalities, to reduce out-of-pocket expenditure and promote affordable and accessible healthcare through various initiatives like Ayushman Bharat, promotion of primary healthcare and schemes for incentivisation for private providers to develop hospitals in Tier-3 cities".
She further said efficiency is a key concept of Pharmacoeconomics and it Is important to analyse the power of digital, changing healthcare needs. Concepts like the cost of illness, study, and treatment, said Dr Reddy, must come in the fore as a part of decision making, policy making and budgetary allocation. "As we move away from simplistic models and move towards cost-effective analysis, illness study will be significant, the biggest example of which is the vaccination drive," Dr Reddy added.
She stated that we must look at appropriate costs of healthcare and find methodologies to move away from an environment where the cost of sick care is higher than cost of healthcare. "We must include in the analysis the overall cost of keeping our population healthy by ensuring proximity to access to healthcare," Dr Reddy further added.
Speaking on the Role of Pharmaco-economics in Indian Healthcare System, Prof YK Gupta, President, AIIMS Bhopal & AIIMS, Jammu mentioned that health economics is more important in resource limited country like India, Bangladesh that have large and diverse population.
He further said that even the most affordable countries must apply pharmaco- economics as the optimisation of available resources is of utmost importance. "COVID-19 taught us that we have to put sufficient budget on healthcare system, optimize our healthcare budget and indulge into out of box thinking to address the weakest group and provide them the best healthcare services," Prof Gupta noted.
Pharmaco- economics, in simple terms, means comparing one way of treating and managing a patient with a set of available therapeutics viz a viz an alternate way of managing patients with better alternatives, he added.
In his address on the and Integrating value-based decisions in strengthening healthcare, Sanjay Murdeshwar, CP & Managing Director, Novartis said, "Healthcare is all about life and outcome and has a massive impact on the productivity of the nation."
He further said that though India has improved its health indicator substantially, we still have a long way to go in compared to the OACD nations, but India is going in the right directions.
The healthcare system, he said rests on the foundation of healthcare financing and healthcare delivery. "We cannot copy western models, we need to evolve our own system, solutions which work for our country," said Murdeshwar. He further mentioned that India is moving ahead with private insurance and financing players, but the real challenge in India is healthcare delivery.
The webinar was followed by panel discussions with Dr Abha Mehndiratta, Technical Adviser India, iDSI; Dr Sudha Chandrashekar, Senior Consultant, World Bank; Amogh Dev Rai, Executive Director, Sanrachna; Dr Kavitha Rajsekhar, Scientist E, DHR, Government of India; Dr Shankar Prinja, Chandigarh; Dr AK Pandey, Director ESI Medical College, Faridabad; Brig Avinash Das, Deputy DGAFMS (Provisioning), O/o DGAFMS; Dr Aseem Das, Dean, ESI Medical College, Faridabad; Dr KT Bhowmik, Principal Consultant, DGHS, MoHFW; Manju Sharma, Additional CEO, GeM; Dr Alka Ahuja, Additional Director, Medical Store Depot (CGHS) ; Mohd Ameel, Head Primary Healthcare, Technology & Innovations, PATH; Air Commodore (Dr) Ranjan Kumar Choudhury, VSM, NHSRC; Professor Stephen Jan; and Denny John, Senior Consultant Pharma, as speakers.