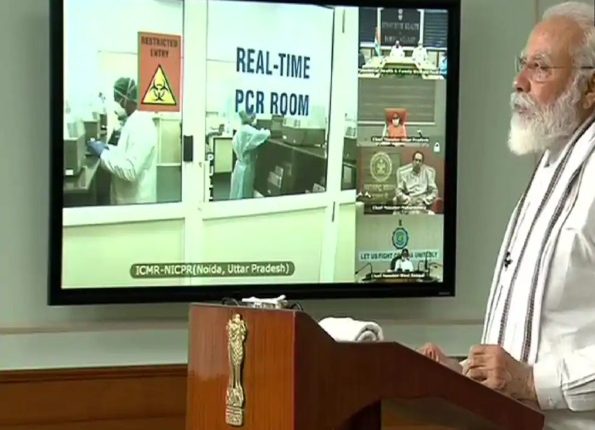 PM Modi launches COVID-19 testing facility in Noida, says India in much better position than other countries
Ten News Network
Noida (Uttar Pradesh), July 27, 2020: Prime Minister Narendra Modi on Monday launched Covid-19 testing facilities in Noida, Mumbai and Kolkata.
The launch was done digitally and the Prime Minister also outlined country's efforts in fighting the virus during his address. "New testing facilities will give West Bengal, Maharashtra and Uttar Pradesh more strength to fight COVID-19," said Modi.
He also termed the lockdown as a great move to keep number of cases in the country at check. "Due to right decisions taken at right time, India is in much better position than other countries in fight against COVID-19," he said.
Moreover, the Prime Minister also brought forward the fact that deaths due to coronavirus in India are much lower than many big countries.
"In January, we had only one centre for COVID-19 testing; now there are about 1,300 labs operating in country," said Modi while adding that in fight against the virus, we have come to a point where we do not lack "awareness, scientific data is expanding, resources are increasing."
Meanwhile, Uttar Pradesh on Monday recorded highest single-day jump of 3,505 Covid-19 cases, taking tally to over 70,000. Moreover, the death toll in state has surged to 1,456 with 30 more fatalities in the last 24 hours.
As of now state's active case count are 26,204, according to health official.