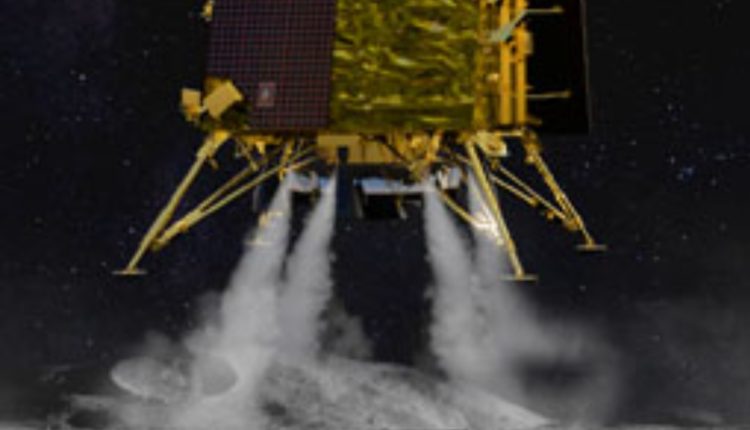 PM Narendra Modi urges nation to witness live landing of Chandrayaan 2
Saurabh Kumar
India: In a few hours, Indian Space Research Organisation (ISRO) will rewrite history by becoming the first space agency in the world to soft-land in Moon's South Polar Region. Indians from world over and PM Narendra Modi at ISRO's Bengaluru headquarter with scientists and students, will witness the 'most terrifying 15 minutes' as Chandrayaan 2's Vikram lander will power-descend from its orbit to soft-land between two Lunar Craters known as Manzinus C and Simpelius N. ISRO has informed that the tentative touchdown time for Vikram lander is between 1.30 am to 2.30 am on September 7.
Ahead of his visit to Bengaluru, the prime minister said that the moon mission manifested the "best of Indian talent and spirit of tenacity." He also tweeted "I am extremely excited to be at the ISRO Centre in Bengaluru to witness the extraordinary moment in the history of India's space programme. Youngsters from different states will also be present to watch those special moments! There would also be youngsters from Bhutan. The youngsters with whom I will watch the special moments from the ISRO Centre in Bengaluru are those bright minds who won the ISRO Space Quiz on MyGov. The large scale participation in this Quiz showcases the interest of the youth in science and space. This is a great sign! "
In a another tweet he said "I urge you all to watch the special moments of Chandrayaan – 2 descending on to the Lunar South Pole! Do share your photos on social media. I will re-tweet some of them too."
Indian Space Research Organisation (ISRO) Chairman K Sivan in an interview to ANI on Chandrayaan 2 Landing said, "We're going to land at a place where no one else has gone before. We're confident about the soft landing. We're waiting for tonight."
While the Pres Information Bearu urged its viwers to witness the historic moment live and twitted "The moment is here !! In a few hours from now,the final descent of #Chandrayaan2 will take place on the Lunar South Pole. We will be there. Be there, be a part of the historic Chandrayaan2 landing ,to tell the future generations that yes i watched it live when it happened."
Shivansh Pal from Amity School, Noida, is among 60 top rankers who will watch the landing live along with the prime minister today. The Indian Space Research Organization (ISRO) conducted an online quiz for school students, to increase awareness about its space programmes. The Human Resource Development (HRD) Ministry had also written to the Central Board of Secondary Education (CBSE) as well as states to encourage students to participate in the quiz.