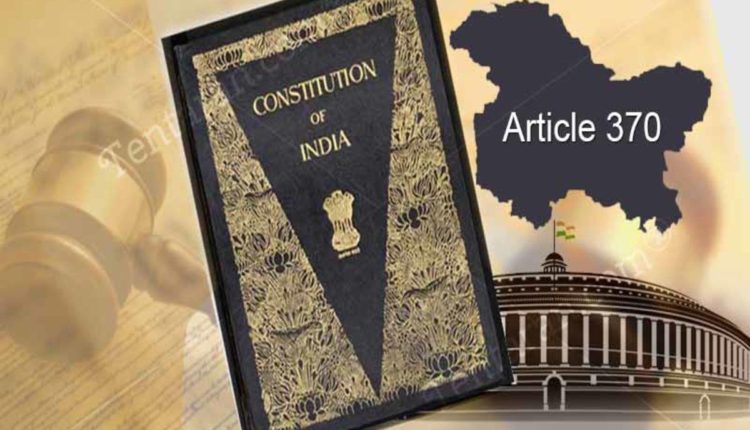 The Government of India, in a historic move carried out through a presidential notification, scrapped Article 370 that gave special status to Jammu & Kashmir. The Centre scrapped Article 370 of the Constitution that gives special status to Jammu and Kashmir and proposed to convert the border state into two Union Territories.
Here's how various political leaders reacted to the development:
Mehbooba Mufti tweets, "Today marks the darkest day in Indian democracy. The decision of J&K leadership to reject 2 nation theory in 1947 & align with India has backfired. Unilateral decision of GOI to scrap Article 370 is illegal & unconstitutional which will make India an occupational force in J&K."
"It will have catastrophic consequences for the subcontinent. GOIs intentions are clear. They want the territory of J&K by terrorising its people. India has failed Kashmir in keeping its promises."
National Conference leader Omar Abdullah, who is also under house arrest, called it a shocking decision and said, "GOI's unilateral and shocking decisions today are a total betrayal of trust that the people of Jammu and Kashmir had reposed in India when the state acceded to it in 1947. The decisions will have far-reaching and dangerous consequences. This is an aggression against the people of the state as had been warned by an all-parties meeting in Srinagar yesterday," he said.
Rajyavardhan Rathore: "Thank you @narendramodi ji @AmitShah ji THIS IS THE BEST HOMAGE TO ALL SOLDIERS MARTYRED IN KASHMIR #Article370 going…. (gone)," BJP leader Rajyavardhan Rathore tweeted.
Arun Jaitley: "The government's decision in relation to Article 370 is a monumental decision towards National integration," senior BJP leader Arun Jaitley said.
"The decision of the government will help the people of J&K the Most. More investment, more industry, more private educational institutions, more jobs and more revenue," the former Union finance minister added on Twitter.
Vasundhara Raje "It took 65 years to abrogate #Article370 & #Article35A but a historic mistake stands corrected today! Congratulate and thank PM Shri @narendramodiji & HM Shri @AmitShah ji for returning the people of the valley their freedom & identity," former Rajasthan chief minister Vasundhara Raje also tweeted.
BJP leader Ram Madhav: "What a glorious day. Finally, d martyrdom of thousands starting with Dr Shyam Prasad Mukharjee for competing the integration of J&K into Indian Union is being honoured and d seven-decade-old demand of d entire nation being realised in front of our eyes; in our lifetime. Ever imagined? (sic)," Madhav tweeted.
Members of the Indian film fraternity took to social media to welcome the decision. Kangana Ranaut said, "Scrapping of article 370 was long due, it is a historic step in the direction of terrorism free nation, I have been emphasising on this for the longest time, and I knew if anyone could achieve this impossible feat that is Mr Modi, he is not only a visionary he has the required courage and strength of character to make unthinkable a reality … I congratulate entire Bharat including JnK on this historic day, we are together looking at a very bright future."
Congress leader Ghulam Nabi Azad said, "BJP is making a mockery of the Constitution." "We stand by the constitution of India. We will safeguard the constitution of India with our lives. But today BJP has murdered constitution," he added.
Author Chetan Bhagat also posted a series of tweets in support of the latest proposal by the government. He said, "Anyone using the removal of #Article370 as an excuse to disturb the peace and instigate violence is an enemy of the state. Let the country be run peacefully. Do not do anything you will regret. #OneCountryOneSystem."