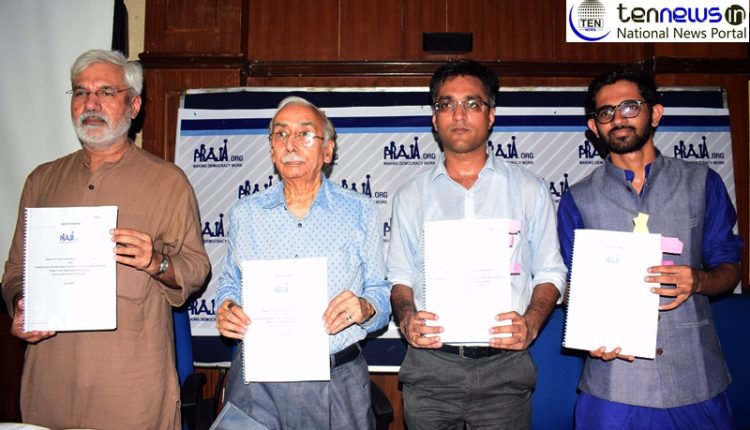 Praja Foundation Releases Report on Civic Issues and Deliberations done by Councillors and MLAs OF Delhi!
Prerit Chauhan (Photo/Video) By Lokesh Goswami Ten News Delhi :
New Delhi: NGO Praja Foundation released its white paper on civic issues and deliberations done by councillors and MLAs in Delhi, on Wednesday. The report by Praja Foundation comes a year after the keenly-fought elections to the Municipal Corporations of Delhi.

A response to a regular Right to Information (RTI) application filed by Praja Foundation to procure number of civic complaints registered, the Delhi Jal Board (DJB) stated that, "Due to technical problem in CRM (Complaint Redressal Mechanism) of call centre application, no information is available from 1.10.2017 to 31.12.2017 ."
The DJB has lost citizen complaint data of three months.
Addressing the Media, Nitai Mehta, Founder and Managing Trustee of Praja Foundation Said, "This is not the kind of response one would expect to an official Right to Information (RTl) application seeking basic information such as the number of complaints registered in an official complaint mechanism of a State-run body in lndia. The carelessness in handling citizens' issues is disheartening."
Complaints relating to major issues like sewerage, removal of dead animals, contamination of water are also major potential public health hazards. They have showed a continuous rise, and the problems faced by citizens are showing no sign of going away, for years on end. The Government must show initiative to
eradicate these problems for good and bring about policy changes," added Nitai Mehta.
The report also stated that 716 issues (9% of all issues) raised by councillors in ward committee meetings from Apr-Dec '17 were an expression of frustration towards the working of the administration. On the deliberation front, data found that one in every four newly elected Councillors did not attend ward
committee meetings from Apr- Dec 2017.
Milind Mhaske, Director at Praja Foundation said. "Data such as this indicates why elected representatives must constantly pay heed to citizens' voices. On several points, our data suggests consistent apathy on the part of elected representatives in the face of clearly increasing public concern."