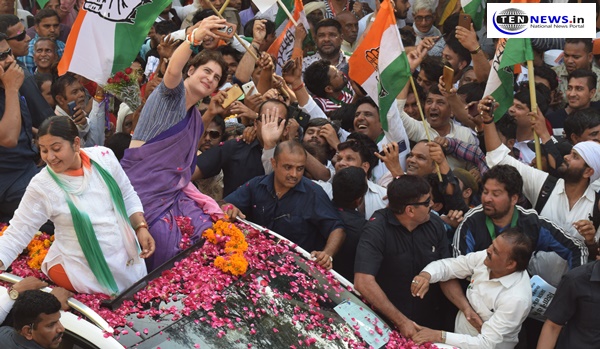 Priyanka Gandhi draws huge crowd in Ghaziabad roadshow, Hits out at PM Modi
TALIB KHAN/ JITENDER PAL- TEN NEWS ( 05/04/2019)
Ghaziabad, (5/3/2019): With elections just on the edge of getting started, Political parties geared up to gather as much vote as they can. This is the time when leaders do everything to please the voters .
Today, Priyanka Gandhi Vadra, General Secretary of Congress and incharge for UP East held a massive roadshow in UP's Ghaziabad. The newly entered into active politics, Priyanka Gandhi held this roadshow for Dolly Sharma the Congress candidate for Ghaziabad LS seat.
Dolly Sharma made her entry in active politics when she contested the 2017 urban local body elections for the post of Mayor in Ghaziabad. She is contesting against one of the big names General VK Singh, who is currently Union Minister and the MP from Ghaziabad.
During the roadshow, Priyanka waved at thousands of people present there just to see a glimpse of her. She clicked selfies for the supporters. While speaking at the occasion she hit out at Prime Minister Narendra Modi for waiving off a huge amount loan for the wealthy, She spoke about her party's minimum income guarantee scheme and asked the ruling party what they did in five years of their tenure. 
Some highlights of Priyanka Gandhi Vadra speech during the roadshow,
"It is not a democracy when you are not allowed to speak, when the farmer is in distress. Good governance is your right, no leader should act like he is doing you a favour".
Taking a jibe at PM Modi she said, "PM Modi has travelled the world. But in 5 years, has not for once, visited a family in his constituency and ask how they have been. PM hugs all world leaders. Have you ever seen him hug a poor family in Varanasi"?.
"PM Modi keeps asking what did Jawaharlal Nehru do, what did Indira Gandhi do. What did you do in the past five years? ".
Praising the Congress manifesto she said, "Chose the party that will work you. Read the Congress manifesto. Ask what is in store for me. We asked shopkeepers, farmers and the young people what they want. After that, we came up with the manifesto. Congress wants to work for you. We want to waive off farmers' loans, provide minimum income guarantee".
After looking at the support, it seems that Priyanka Gandhi Vadra is capable of turning the tables in the upcoming elections at least for Uttar Pradesh.