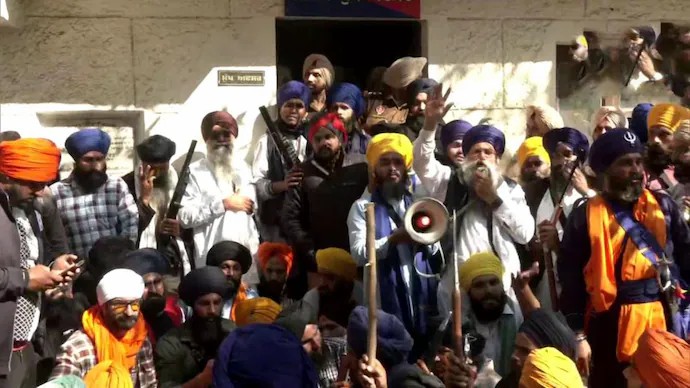 Protests erupt in Amritsar against arrest of pro-Khalistan leader's aide, six cops injured
Ten News Network
Amritsar (Punjab), February 23, 2023: Massive protests erupted on Thursday in Amritsar, India, against the arrest of a close aide of pro-Khalistan leader Amritpal Singh.

The supporters of "Waris Punjab De" broke through police barricades outside Ajnala Police Station, wielding swords and guns, causing six police officers to be injured and admitted to the Ajnala hospital. A heavy police presence was deployed in the area to control the protesters.
Amritpal Singh claimed that the FIR against his aide was registered with a political motive and threatened consequences if it was not canceled within an hour. The "Waris Punjab De" chief further claimed that his aide, who was arrested last week, was innocent and was being tortured. He also threatened to go to the police station if his name was not dropped from the FIR.
Singh, who is a self-proclaimed Khalistani leader, and his five aides have been charged with kidnapping, theft, rioting, causing injury, and unlawful assembly. The charges were filed after a complaint by Singh's former aide, Varinder Singh, who alleged that he was abducted and beaten up by Singh and his heavily armed men.
The police action against Amritpal Singh and his armed men is being viewed in light of the statement issued by Chief Minister Bhagwant Mann that nobody will be allowed to create hatred among communities.
Singh had previously stirred controversy after stating that "Union Home Minister Amit Shah's fate will be similar to that of former Prime Minister Indira Gandhi." The statement drew criticism from the Bharatiya Janata Party, with its spokesperson, RP Singh Khalsa, questioning why the Aam Aadmi Party government in Punjab has been soft on Singh.
The protests and unrest in Amritsar highlight the tensions between pro-Khalistan groups and the Indian government. The situation remains tense as the police continue their efforts to control it and investigations into the allegations against Amritpal Singh and his aides continue.