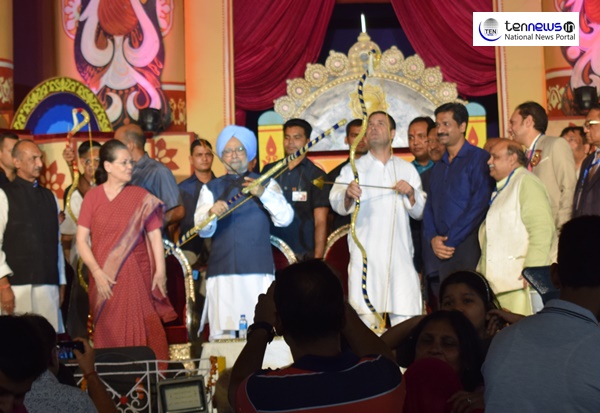 Rahul Gandhi along with Sonia Gandhi and Manmohan leads Dussehra Celebrations at Red Fort Ground!
New Delhi: Dussehra, also known as Vijayadashami, marks the end of the nine day long festive journey of Navratras. The day also marks the end of Durga Puja.
The festival signifies victory of good over evil. Read here to know how you can celebrate Dussehra in an environment-friendly manner. In Northern India, Ramlila is being played out across the country for ten days and on the last day effigies of Ravana, Kumbhkaran, and Meghnad are burnt with fireworks marking the destruction of evil.
Arrows were tired to set the efflgies of Ravana, Meghnad and Kumbhakaran ablaze at the Iconic Lal Qila here on Friday, an event that was attended by Congress President Rahul Gandhi along with Sonia Gandhi and Manmohan Singh attends.
The burning of the giant effigies, signifying the triumph of good over evil, was organised by the Shri Nav-Dharmik Leela Committee Red Fort
which has been organising the city's one of the most high-profile Ramleela events at the grounds of the historic Red Fort since
1958.