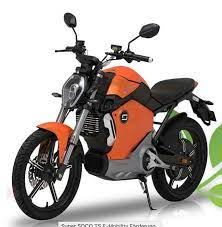 RattanIndia's Revolt Motors reopens booking for new and advanced RV400 electric bike
New Delhi February 20, 2023: RattanIndia's Revolt Motors, the largest selling EV bike company in the country, today announced the re-opening of bookings for its state of the art, AI enabled electric bikes. Revolt Motors was recently fully acquired by RattanIndia Enterprises Ltd. and has since then invested heavily in supply chain and ramping up the production capacity at its world-class manufacturing plant in Manesar, Haryana.

The booking amount will be Rs. 2,499/- with customers slated to get their deliveries before 31 March 2023. Revolt has a completely contactless online booking system and customers can register for bookings on its website www.revoltmotors.com.
Revolt Motors currently has pan-India network with presence across 35 dealerships spread across 22 states in India. Revolt electric bikes provides great savings for its customers with monthly running cost as low as Rs. 350 per month compared to Rs. 3,500 for petrol bikes for an average rider. Revolt bikes are known for their build quality, cutting edge technology and hassle free batteries. Currently Revolters, as proud owners of Revolt bikes like to call themselves, have covered over 20 crore kms on Indian roads.