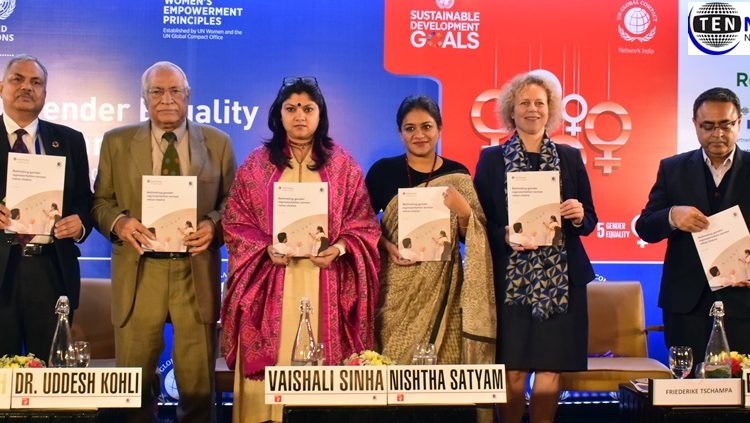 Redistribution of power is the key to Generation Equality: UN Women MCO for India at 3rd Gender Equality Summit by UN GCNI
Vishal Malhotra/Lokesh Goswami Tennews New Delhi :
New Delhi (06/03/2020): A local arm of United Nations Global Compact, Global Compact Network India (GCNI) today organized the third edition of its Gender Equality Summit, 2020 in New Delhi to deliberate on how the gender gap can be closed down in the country.
The summit was organized at a time when the International Women's day is just around the corner, and so the UN GCNI, linked the international theme with the Indian context to highlight the current generation as a key driver and the India Inc. as a key catalyst for gender equality.
This summit today aimed towards building a concrete roadmap towards gender equality at workplaces in India. It focused on driving and bringing in change for inclusive and equal opportunities in employment and growth for the women workforce.
Witnessing over 250 leaders across the sectors, the event shared insights on 'women empowerment'. Key discussions at the summit included gaining an understanding of strategies adopted by leadership to promote a gender-neutral culture across hierarchies within the organisations and supply chains, insights on unique policies, practices, and programs that are structured within organisations to nurture participation and representation.
It also focused on how women empowerment could be stimulated in digital jobs, role of young women entrepreneurs in addressing social, economic and cultural barriers preventing exploration of nonconventional roles and responsibilities in India.
Vaishali Sinha, Chair GES 2020 and Chief Sustainability Officer at ReNew Power, while delivering her address, emphasised on the significance of Gender Equality in all the SDGs and also touched upon some key statistics that highlights the sharp gender gap in India like the low literacy rate of Women in India at 65% in comparison to men's literacy rate at 80%. While presenting the statistics, she also repined about only 11% women in Lok Sabha and high rate of violence that Women are facing in the country.
Further, Sinha talked about how women are held back due to undue burden on them and encouraged women to be a leader rather than playing second fiddle to a man.
Nishtha Satyam, Deputy Representative, UN Women MCO for India, in her address, appealed for redistribution of power amongst men and women. She said, "This change is going to make us uncomfortable for some time. Bringing women at same wages, bringing women as manager, these decisions are going to make men uncomfortable, but these decisions have to be made in companies."
"Let us agree to be uncomfortable for this change. Because this will be good for us, our business." Satyam added.
Kamal Singh, Executive Director, Global Compact Network India, said, "Holistic development of the nation and its societies can only happen if we assign equal value to both genders. For the growth and true success of the nation, gender diversity is imperative and we should strive towards achieving it."
Adding to his speech, Rohit Bahadur from Grant Thornton India, said, "We need to keep in mind that Gender equality is not about creating safe and inclusive workplace for women but our homes and society at large too. As India moves towards becoming a nation that treats all genders equally, the responsibility of the same rests in the hands of India Inc. in achieving Goal 5 of the United Nations (UN) Sustainable Development Goals (SDGs) – Achieve gender equality and empower all women and girls."
At the summit, Top Best Innovative Practices Awards 'Women at Work – Place' were presented to:
1). Public Sector-ONGC
2). Private Sector-Winner – Nestle, Runners Up – Zensar 3). NGO Sector-Bharti Foundation
4). Academic Sector – Salipur School
5). Special Jury Recognition Award – First Steps Babywear Pvt Ltd.