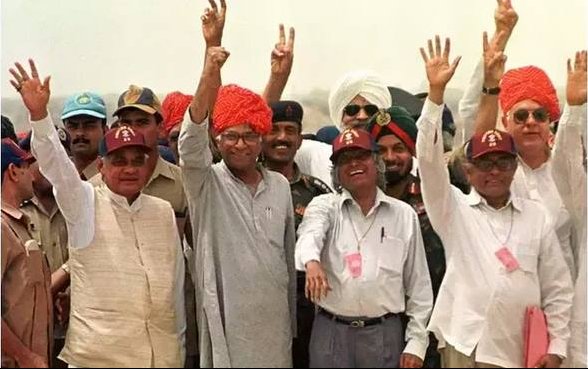 Today is the 20th anniversary of Pokhran-II. Under the leadership of Former President Dr A. P. J. Abdul Kalam (then DRDO Chief) & Dr R Chidambaram (then Chairman of Atomic Energy Commission), the team of more than 100 scientists, technicians & soldiers successfully conducted five underground nuclear tests & emerged as a nuclear weapon
state in May 1998.
On 11 May 1998, the second Nuclear Test in the series of five nuclear bomb tests were conducted by India at Pokhran Test Range, Rajasthan. The first nuclear test was conducted in May 1974.
Pokhran 2 was a turning point in the history of India's scientific and technological progress. 20 years ago, five successful nuclear tests displayed India's might in nuclear technology and engineering to the world.Our Army developed their own code language to talk about Operation Shakti & nuclear tests. It left the Pakistanis and American spies confused even if they managed to record the conversations.
Our scientists had 3 major challenges:
1) To avoid getting caught by the CIA surveillance satellites
2) To avoid leakage of info through
double agents, phone tapping etc.
3) To avoid local spies deployed by CIA & Pakistan
And we overcame all.
Ten News Salute to these great men.