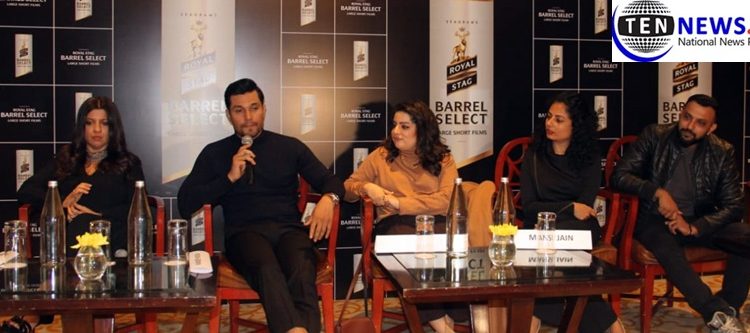 Royal Stag Barrel Select Large Short Films decodes 'what makes a film powerful' with Randeep Hooda, Zoya Akhtar and Mallika Dua
Saurabh Kumar/Lokesh Goswami Tennews New Delhi :
Royal Stag Barrel Select Large Short Films an influential and celebrated platform for short films, today hosted an engaging panel discussion on short films, Indian cinema and 'what makes films powerful '. The illustrious panelists moderated by Anupama Chopra included Randeep Hooda, Zoya Akhtar, Mallika Dua, Mansi Jain, Neeraj Jain and director Yash Verma.
A powerful story needs a degree of skill and commitment from everyone involved to capture the audience attention. Royal Stag Barrel Select Large Short Films brings together actors and storytellers from the world of cinema to decipher the perfect elements that makes films powerful. In a specially curated 6 city tour, the platform invited cinematic maestros like Anil Kapoor, Farah Khan, Jimmy Shergill, Rakeysh Omprakash Mehra, Randeep Hooda, Vinay Pathak and Zoya Akhtar and many more from the industry who conversed around cinema and their pursuit of excellence across 6 cities: Delhi, Gurgaon, Hyderabad, Kolkata, Pune & Jalandhar.
Commenting on the occasion, Kartik Mohindra, Chief Marketing Officer, Pernod Ricard India said "Royal Stag Barrel Select Large Short films has become synonymous with powerful & original cinema. As the short film genre grows, our endeavor will be to continue to bring these powerful stories and their creators to the forefront."
The captivating discussion at Royal Stag Barrel Select Large Short Films was centered on 'One for the Road: Different India on the filmi road-trip, from Highway to ZNMD and beyond where the panelists shared their perspective on the topic and how films around road trips can evoke deep & philosophical conversations. The events will be aired on a popular television network which will drive reach for the brand and the property.
Royal Stag Barrel Select Large Short Films has pioneered a revolution in the field of filmmaking. Through a slew of powerful short films, the brand has successfully redefined movie-watching for cinephiles and has thrown up a reality check for viewers and filmmakers alike. With its original, powerful and entertaining content, the property has successfully built a loyal community of enthusiasts in a very short span of time.