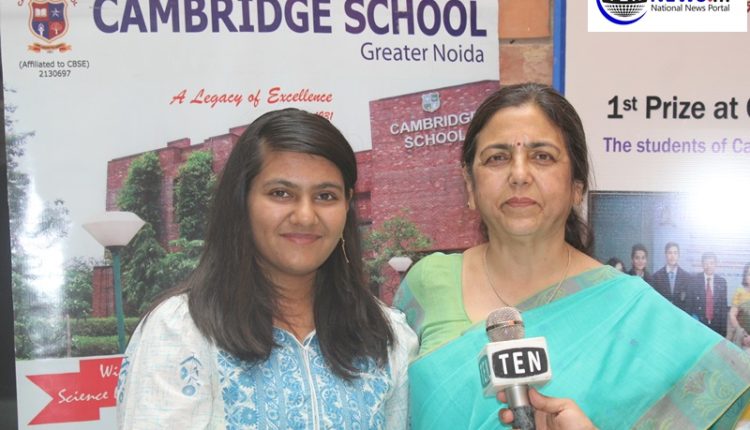 Ruchika Aggarwal Class XII CBSE topper from Greater Noida wants to Pursue Career in Fashion Designing
Saurabh Kumar / Baidyanath Halder
Greater Noida (04/05/2019) : Ruchika Aggarwal from Cambridge School, Greater Noida has topped the city in CBSE 12th Boards examination by securing 99 percent marks. She secured 2nd rank in district Gautam Budh Nagar and 4th rank in all over India making her school and parents proud.

Over this achievement of Ruchika, Ten News interacted with her and school's Principal Dr Rekha Bushan .
When asked about did you expect that you will be getting 99% marks and will be the GR Noida topper?
She said, No dint expected that I will top Greater Noida it was unexpected for me, my only target is to secure good marks. After the announcement of the result the fame I got overnight was also unbelievable for me everybody from family, friends were calling me and trying to contact me for congratulating me.
TN: How you made it possible?
RA: I had put a lot of hard work though I am a bright student but securing 99 % was a tuff task. I studied 10 to 12 hours a day, for the last six months I gave up on my hobbies of reading books watching movies.
TN: Did you feel pressurized some times when you were preparing for exam? How did you deal with that?
RA: No, I had never been in pressure because of my parents and teachers they never pressurized me that I have to secure a good percentage or a particular percentage.
TN: What are your future plans?
RA: In future a want to peruse Fashion designing by joining National Institute of Fashion Designing and for that, I had given entrance examination and now waiting for the best.
TN: Any tips you want to give your juniors?
RA: I don't like to give any tips to them but just want to say believe in yourself and work hard.
TN: Would you like to say something about what's the role of your school in your success?
RA: I am here because of My School and my teachers who continuously supported me throughout my journey and also like to thank my principal, she personal looked after me and my mistakes and kept be guiding where I can improve.
While talking to Dr Rekha Bushan principal Cambridge School told that,
"this achievement of Ruchika depicts the validation and hard work of Cambridge because we believe that every child has a potential and we help them in realizing their potential."
Answering a question over today's throat cutting competition that is putting an extra burden on students she said "we here at Cambridge don't believe in competition, we believe in bettering oneself my realizing your true potential."