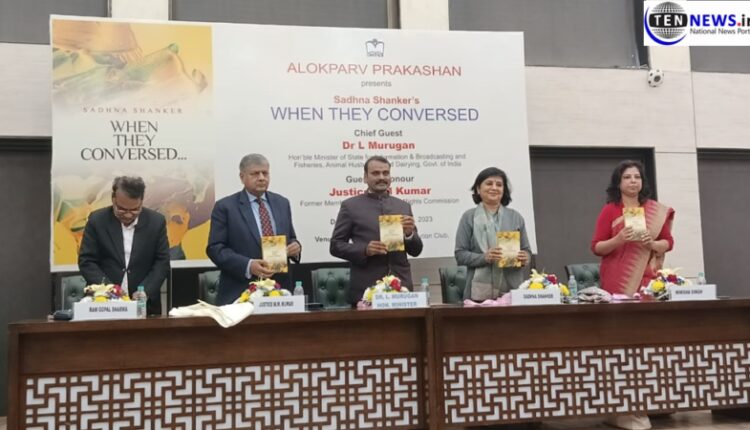 New Delhi, January 28, 2023: The latest book by author and Indian Revenue Service's Top Officer Dr. Sadhna Shanker, "When They Conversed," was released on Saturday at a glittering function organized in the Constitution Club, New Delhi. Dr. L. Murugan, the distinguished Minister of State for Information and Broadcasting, as well as for Fisheries, Animal Husbandry, and Dairy, Government of India, served as the event's chief guest. Justice M. M. Kumar, a former Member of the National Human Rights Commission, was the guest of honour.

Dr. Sadhna Shanker is an accomplished author who has contributed to national and international English newspapers and magazines. She currently writes a monthly column for the Dainik Bhaskar. Her previous books include Ahlan-wa-Sahlan: A Syrian Journey; "When the Parallels Meet; "Never a Disconnect; "Catching Fireflies;" "Ascendance;" and "Arohan."
The book, which is a collection of published articles and blog posts by the author, deals with contemporary issues and ideas that are changing our lives. Divided into four sections, the conversation of the book is multi-faceted and covers a wide range of topics such as loneliness, the impact of technology on our everyday lives, the way COVID impacted various aspects of our lives, travel, and more.
Deputy Director General of Ministry of HRD, Govt of India , Ms Namisha Singh, who introduced the book, said, "This book is not a path-maker; it is a glimpse into the mind of a traveler on the path from which fellow travelers can derive comfort, joy, and companionship."
Justice M. M. Kumar, Ex Member , NHRC and Guest of Honour praised the book, saying, "I was fascinated by the title "WHEN THEY CONVERSED" and was wondering, 'Who is conversing and what?' Loneliness is a state of mind or being; it brings a sense of disconnect from people and life. You can be surrounded by people and still feel lonely. This book takes us to different places in the world through travelogues."
Dr. L. Murgan, Union MoS, the Chief Guest said, "Although the world is going digital and blogs and books are getting published online, the joy of holding a physical copy of a book in our hands is something one always looks forward to. More importantly, the collection of these articles in the form of a book allows readers to weave together the thoughts and emotions flowing through these articles, illuminating them, and finding an echo of our own emotions and feelings in them."
Speaking at the launch, Dr. Sadhna Shanker the Author said, "I am thrilled to see my latest book finally being released . It is a collection of my thoughts and reflections over a period of time, and I hope readers will find something of value in it."
The author also revealed that she designed her blog, "The Mind Prism," herself and said, "I did it piece by piece by myself and learned along the way."
The book release of "When They Conversed" was attended by literary enthusiasts, literary critics, and members of the publishing industry. The book is available for purchase online and in bookstores nationwide.