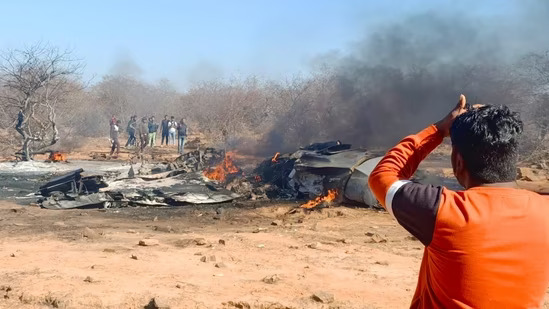 Air Force Fighter Jets Crash in Madhya Pradesh
Ten News Network
Madhya Pradesh (India), 28th Jan 2023: Two Indian Air Force fighter jets—a Sukhoi Su-30 and a Mirage 2000—have crashed in Madhya Pradesh during a training exercise, officials said on Saturday.

The two pilots of the Su-30 were reportedly safe after they managed to eject, while the pilot of the Mirage 2000 is yet to be located.
The two fighter jets had taken off from the Gwalior air force base, and search and rescue operations are underway for the third pilot. Videos from the scene, shot by locals in Morena, showed debris from the aircraft on the ground.
Defense Minister Rajnath Singh has been briefed by the chief of the Indian Air Force on the crash of two aircraft.
Madhya Pradesh Chief Minister Shivraj Singh Chouhan said in a tweet, "The news of the crash of Sukhoi-30 and Mirage-2000 aircraft of the Air Force near Kolaras in Morena is very sad. I have instructed the local administration to cooperate with the Air Force in quick rescue and relief work. I pray to God that the pilots of the planes are safe."
The Indian Air Force has launched a court of inquiry to establish whether there was a mid-air collision or not. The two pilots, who are reportedly seriously injured, have been moved to a hospital.