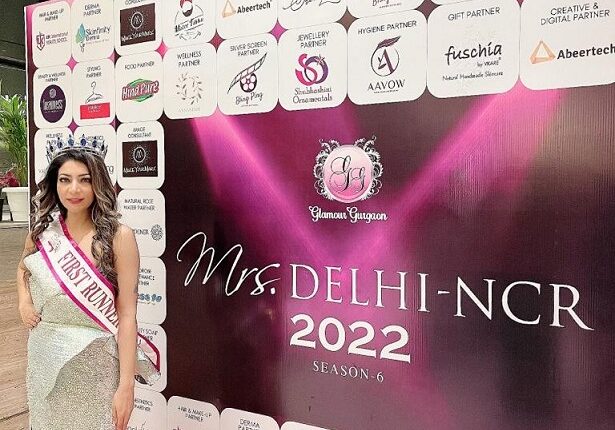 SARIN PRABHAKAR IS RUNNER UP AT MRS DELHI-NCR CONTEST FOR THE YEAR 2022-23

Gurugram/New Delhi December 31, 2022 Gurugram based 42 year old Vibha Sarin Prabhakar presently working in India's leading market place pre-owned vehicle and equipment  company has been announced as First runner up at recently held Mrs Delhi NCR contest held in a five star hotel in Gurugram.
Vibha mother of a Ten year daughter is an Alumna of London Business School, Wharton-USA, IMD-Switzerland, INSEAD-France & has worked in both National & MNCs in India & abroad. She has been a Keynote Speaker at various industry forums & panels.
She has over 22 years of experience in Transforming Organisations & building a Culture of Excellence by leading Business Development, Offline and Digital Operations, CX, Digital Marketing, Media and Partner Relationship Management.
Recently Vibha bagged the 1st Runner's Up Title & Subtitle – Prim & Proper at Mrs Delhi NCR 2022 beauty pageant organised by the renowned organisation – Glamour Gurgaon, owned by versatile entrepreneurs & fashion industry veteran couple- Barkha Nangia & Abhishek Nangia.
Stage was set, and 80 contestants walked the ramp to the music of choreographer and director Shie Lobo, to celebrate womanhood in all its glory during the finale of the sixth edition of the event. A total of 5200 women from the Delhi-NCR region had turned up for the auditions. Glamour Gurgaon Director Barkha Nangia said, "Delhi-NCR resident women up to the age of 45 years and height 5 feet and above were eligible to participate in the auditions. And this year's theme for the pageant was breast cancer, which is an alarming issue among women today."
The journey of a highly educated background girl towards limelight & world of glamour making her a much more independent woman of today!. The winner says: "Life isn't easy, it has never been & that is one thing I appreciate about it; Because success & victories that comes post hard-ship & hard-work; Feels the sweetest.I am trying whatever is possible in this one life wh support of well wishers and family " Mr Prabhakar said .
The winners of the contest were crowned by cine  star Simone Singh including  Group A Rakhi Singh, Mitali Gupta,Jyoti Meena and in Group B Rashika Matharu, Vibha Prabhakar and Pallavi Mautiyal .During running of the title contestants underwent soft communication training, grooming sessions with famous fashion designers, image consultation, and in-depth training Sessions were also organised to help them understand the value of their health.