CELEBRATION OF SAVITRI BAI BIRTHDAY AT SAVITRI BAI PHULE BALIKA INTER COLLEGE, GR. NOIDA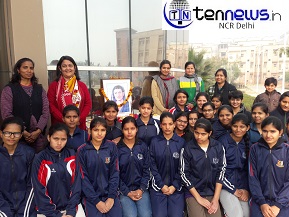 Savitri Bai Phule was born on 3rd January 1831 and was a well known social worker who worked for girls education in India.  Her contribution towards women empowerment needs no introduction.  She was the torch bearer for upliftment of girls rights.
We at Savitri Bai Phule Balika Inter College, Greater Noida celebrated SavitriBai's Birthday with lots of zeal and enthusiasm.  Staff and students sang lovely bhajans starting with 'Itni Shakti Humey Dena Datah…..'
Principal, Ms. Rima Dey lit lamps and distributed sweets to every member of SBPBIC family including guards and class IV employees.  She said that we must not forget the sacrifice and contribution of SavitriBai towards women education and that all of us should follow her footsteps.